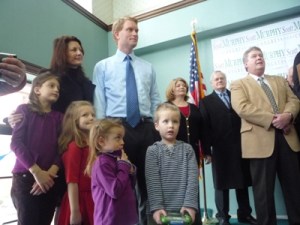 GLENS FALLS—The new, two-story campaign headquarters at the heart of the city Scott Murphy calls home was packed to the gills as the candidate formally kicked off his campaign for congress.
He was introduced by June O'Neill, chairwoman of the State Democratic Party, who said she was "so excited about Scott Murphy that I drove 150 miles through the mountains to be here."
Party chairs from Warren, Washington, Essex and Rensselaer county attended the event, standing behind Murphy as a show of unity. From Saratoga County, the supervisors of Stillwater and Moreau both attended, as did former television anchor Tracy Egan, whose name was floated to be the candidate in the district but who later withdrew.
"He's great and he's going to win," said Bill Montfort, who is chairman of the Warren County Democratic Committee and helped guide his hometown candidate to the nomination.
Murphy entered to rock-star music, and hugged his son, Duke, before making an eight-and-a-half-minute speech announcing his candidacy. It largely echoed the themes of Murphy's first television ad, which will start airing today, about the need to create jobs to allow families to stay together in upstate New York. His delivery was carefully measured and he read closely from prepared remarks.
Voters, Murphy said, "want a leader who does more than talk about jobs, but who will create jobs." He has tried to draw a sharp contrast between his experience as a venture capitalist and the experience of his Republican opponent, Assembly Minority Leader Jim Tedisco.
Murphy has considerably less name recognition in the district, which contains about 70,000 more enrolled Republicans than Democrats. The kickoff was meant to show off Murphy's ties to the Glens Falls community (I spoke to one man who served with him on the board of a local art museum) as well as the prima facie show of party unity behind him.
Support will be another story. I asked O'Neill about reports that the DCCC had been reluctant to commit to Murphy's campaign, and that he was hoping New York Democrats would shoulder some of the heavier lifting.
"You'd have to talk to the national people about that," O'Neill said. (The national people point to the staff they have sent to the district.) 
I asked how much money the state party was prepared to invest in Murphy.
"I play cards, but I don't show them," O'Neill replied. "So let's just suffice to say that we're working very hard."