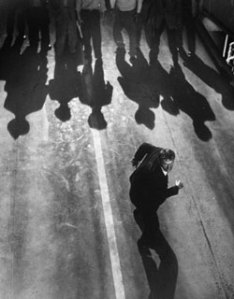 When Yeats wrote of a "rough beast" slouching to be born, I doubt he expected that his apocalyptic monster would turn out to be a pig.
Well, it has. And I want blood. I want sausage. And so should anyone whose modest mite has been decimated by the hoggishness of Wall Street and the fanciful monetary and regulatory theories of the fools in Washington notionally charged with keeping an eye on the trough.
And that includes the business media, the Little Red Riding Hoods with laptops who for years only wrote about what nice shiny teeth Granny had, and only in the last year discovered that they were looking at a wolf in bull's clothing. These, at least, are showing signs of seller's remorse. According to Arianna Huffington, there has been considerable ex post facto (or should one say "posthumous") keening of mea culpa and rending of garments by those of the Fourth Estate present in Davos—all, you can be sure, with an eye on the hors d'oeuvre tray.
Why should we be surprised? The problem with the media for some 20 years now has been a concern to dine with people they should have been interested in dining on, in the style of  propagandist in chief Thomas Friedman, who has taken flexibility to the level of contortionism: Week after week, Times readers are treated to the Op-Ed equivalent of tiny claws on metal as Mr. Friedman scuttles down the anchor chain of yet another sinking ship launched by him on tides of conventional wisdom, ballasted with false perceptions and impossible prescriptions.
In typical fashion, now that Armageddon's here, the press resembles the Galway Blazers, off with a hoop and a holler to hunt down a new villain du jour every week, it seems. Last week, it was bonuses, with extra shrillness added to the pack's yelps by the president's weighing in on the subject.
Unfortunately, Mr. Obama missed the point. He emphasized "How much?" instead of "What for?"—which is the big, dirty truth about Wall Street. A truth that needs to be universally acknowledged: namely, that the size of a bonus in the finance trades (considered broadly) will invariably be in direct inverse proportion to the moral, ethical and economic utility of the work performed. Write that down, students.
This is the great and true "asymmetry"—a word much in current use—of Wall Street, a disconnect that is as much philosophical as financial. The big "performance-based" payouts went to the people on the trading-banking frontline who broke their banks and ours: the animals who generated the subprime/Alt A mortgages and the mortgage-backed CDOs, or built up the "naked" swap positions and the fat private-equity and hedge fund loans and fees and the SIVs in which the crap could be hidden. These are the people who deserve to get it in the neck—along with their complaisant chums in Washington
How to do this? This is where the aggrieved throw up their hands (viz., M. Dowd's column in last Sunday's Times, pure sound and fury).
In a properly ordered world, they'd be forced to run a gantlet stretching from Spuyten Duyvil to the Battery, one that would culminate in a guillotine set up on the porch of the New York Fed. I would rather enjoy hearing Mr. Greenspan intone, as he bends to settle his wattles on the chopping block, "It is a far, far better world I go to than I created for you mugs!" But it would be something. There should be no reward for ruin.
Sadly, such sanguinary fantasies will never come to pass. But why can't we hit Wall Street (and its pals in mortgage origination, bond rating, etc.) in its only feeling organ: its wallet. What I'd like to see—not that this will ever happen—is a real "clawback," which on Wall Street is a term of art. As I mentioned last time around, the Italians do it: I've seen one reliable estimate that the Italian authorities confiscated 5.2 billion euros from Neapolitan and other mobs last year.
So here's what I have in mind. Identify those taxpayers in the financial trades (everyone from Orange County mortgage peddlers to big Wall Street executives) whose aggregate gross earnings for the tax years 2006-'08 exceeded $6 million ($2 million a year seems about right to live on). Is this possible? Some would say no. "Compensation experts" consulted by Times reporters Eric Dash and Vikas Bajaj stated that "most, if not all, of the money that the banks have paid out is probably gone for good."
How can that be? These bonuses were distributed only a month or so ago—less in the case of the Merrill Lynch midnight raid on the Bank of America strongbox filled with bailout (for which read "taxpayer") cash. The requisite information as to who got how much must be on the I.R.S. computers.
Send each of those happy folks a bill on behalf of We the People and our shattered economy for 25 percent of their aggregate 2006-'08 gross income in excess of $6 million. This would be on top of whatever tax they might already have paid, so we need to be fair: Give them five years to pay it off.
This would both sting and salve. Hit the miscreants where they live and comfort the afflicted with the sight of the ungodly facing a big-time payback. The motto of these people has been "Eat what you kill." Well, they've killed us, so it's only fair if we eat them. The $6 million threshold, I'm guessing, would spare 90 percent of the people who just did their jobs on the Street, although some fine-tuning would be in order to allow for, say, a big Merrill Lynch producer who rang the bell with regular-way buy-sell commissions or an AIG underwriter who knew what was what or a Citi wealth manager who built his or her accounts up through shrewd and conscientious investment. For these, you might set up a special tax court to hear appeals, but there's no getting around the likelihood that the only way to scoop up the villains will require the assumption that all are guilty until proven otherwise.
P.S.: I'm going to do some occasional blogging, at midaswatch1.blogspot.com.
editorial@observer.com