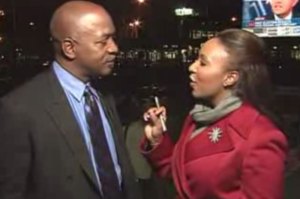 Never ask your most important question first.
That was the advice Today show producer John O'Rourke was giving.
First, you've got to shoot some "B-roll." Then some softer questions. Then, the kill.
"You don't want to be like, 'Hi. So, did you kill your mom?'"
That got a laugh from the pupils gathered in a second-floor classroom at the New York Film Academy's neoclassical brick building on the edge of Union Square on the afternoon of Friday, Feb. 20.
It was last summer that the school teamed up with NBC News to create a newfangled broadcast journalism program with a focus on digital journalism. Tuition for a semester of classes is $17,000. In exchange, the school immerses students in the new technology currently revolutionizing the television news business, including how to shoot video on Panasonic HD cameras and how to edit on Final Cut Pro software.
At the front of the room, Mr. O'Rourke, a slight, handsome man with 25 years of experience in TV news, readjusted his glasses. A few feet to his right sat Lyne Pitts, an erstwhile vice president of NBC News, who had played a significant role in forging the partnership between NYFA and NBC News. She had invited Mr. O'Rourke to speak to the class about field producing.
On a screen behind him, Mr. O'Rourke cued up a story that he had produced years earlier for Today. It was a piece about a heroic teacher in California, the kind of "O captain! My captain!" guy who inspires countless students, year after year. The editing, the lighting, the interviews—everything was perfectly polished.
The piece ended, and Mr. O'Rourke smiled. The package, he recalled, had been super-costly to produce. "We could never have done that story today like we did it four years ago," Mr. O'Rourke said wistfully. "It was very, very expensive."
From the back of the room, a student named Mac Bishop raised his hand. For the past six years, Mr. Bishop had been reporting for print publications overseas, including the Financial Times and Foreign Policy. Recently he had matriculated into the program, hoping to escape freelancing by picking up some marketable technical skills.
"As I watch the ongoing massacre in the journalism business, I'm told that if I ever want a job in the future that I need to be able to do everything myself," he said. "But I realize I could never do a piece like this all by myself."
Ms. Pitts, the former NBC News VP (who, like many of her veteran colleagues, recently took a buyout from the company), interjected. "I'm not going to concede your point," said Ms. Pitts. Armed with the new tools of digital journalism, she went on to argue, a solo practitioner could achieve the same level of storytelling in the field as a traditional news crew.
Currently, the broadcast news business, like the newspaper business, is going through a tumultuous contraction. The advent of the Internet, the subsequent splintering of the news audience and the ongoing slump in advertising has resulted in the national news networks (including NBC News) and local TV stations (including NBC's flagship station in New York, WNBC-4) shedding experienced employees at an alarming rate.
Though statistics are hard to come by, anecdotal evidence suggests that networks and stations around the country are currently restocking their newsrooms with a new species of journalist: the "one-man band"—also known as DJs (digital journalists), APJs (all-platform journalists) and backpackers.
"In small crews or even solo, these intrepid reporters are the fastest-growing part of the journalism profession," suggests the program's Web site.
Gone are the days, goes the theory, when a TV station has to employ a specialized cameraman, editor, correspondent and producer to report a field story. According to believers in the new model, a single well-trained digital journalist armed with a laptop, a small HD camera and a tripod can now more or less replicate the job that was traditionally performed by an ensemble news crew. (Most of whom, it can be presumed, tend to belong to unions.)
But even ardent supporters of the new model have questions—namely, how can a single individual do everybody's job without drastically sacrificing the quality of the story?
On Friday afternoon, Marian Porges, the director of the digital journalism school, leaned back on a couch in an office down the hall from Mr. O'Rourke's guest lecture.
For more than 25 years, Ms. Porges has produced news at the network level first for ABC News and, more recently for NBC. Currently, in addition to running the new DJ program, she works as a producer on NBC's special-events unit.
Not long ago, to name but one example, NBC News began asking veteran producers (including Mr. O'Rourke of Today) to take retraining classes on the new digital-editing software.
"In the past year, it has become starkly obvious that if people don't have additional skills, they're just not going to be able to maintain their job," said Ms. Porges.
"You can't walk into a newsroom anymore and say, 'Hey, I'd like to be a producer!'" said Ms. Porges. "They're going to say to you, 'Great. What else can you do?'"
In December, Gannett executives announced that they would be replacing their traditional news crews at WUSA in Washington with solo digital journalists. Elsewhere, last summer, CNN launched a series of 10 mini-bureaus around the country, each of which will eventually be staffed by one APJ.
Over at ABC News, in the fall of 2007, executives hired seven digital journalists and dispatched them to cities around the planet. A year and a half later, network executives consider the experiment a major success.