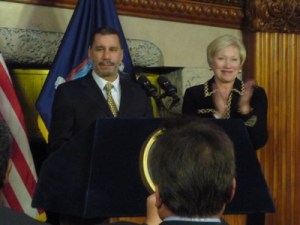 ALBANY—After a year-long process, Nancy Zimpher was selected to lead the State University of New York, becoming the first woman to hold the title of chancellor.
Zimpher currently serves as president of the University of Cincinnati, and also has experience as a public university administrator in Wisconsin.
 "I've given a number of media interviews today, and the most popular question was, why in the world would you want this job?" Zimpher said in a Red Room press conference, flanked by David Paterson and Carl Hayden, chairman of the SUNY Board of Trustees. Her answer, she said, was simple.
"The aspiration of the State University of New York is nothing less than to be the best higher education system in the country and to be a global model. That is an aspiration to which I aspire as well," she said. "I too believe that we can be an economic engine and a great catalyst for civic and social change."
Paterson said he was not involved in the actual selection process, but only as a resource for the search committee. In the past, appointees to the post have been seen as political.
Zimpher easily sidestepped questions regarding the state's deferral of 90 percent of a tuition hike to reduce the budget deficit, what role she will have in overhauling the state's research foundation and whether she will be bringing in outside staff.