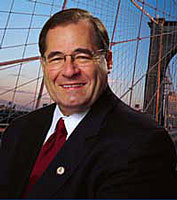 The Obama administration just sent out a series of releases that provide details about how money from the stimulus package–the American Recovery and Reinvestment Act–will impact job growth in individual states and congressional districts.
According to the numbers, New York State will gain about 215,000 jobs–more than most states, fewer than California (396,000) and Texas (269,000).
Among New York's congressional districts, it's the 8th, represented by Jerry Nadler, that is estimated to get the most  jobs–8,100. That may have something to do with the district's planned Fulton Street Transit Center, which the M.T.A. has said will recieve about $500 million in stimulus funds.
Other districts on the top end of scale are Brooklyn's 12th, represented by Nydia Velazquez, and the Hudson Valley's district 19, represented by John Hall.
The district assigned the lowest estimate is the 28th, which covers Rochester and Niagara Falls, is represented by Louise Slaughter expected to gain 6,700 jobs.
Other districts in the low range are several in Western New York (the 27th, 25th and 24th), a couple in the outer boroughs of New York City (the 10th and 16th), both the 4th and 5th, which cover Long Island just east of the city and Westchester's 18th district.