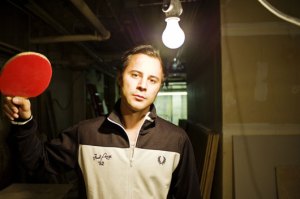 The Prince of Madagascar lives in a penthouse apartment at the National Arts Club, overlooking the barren trees and locked gates of Gramercy Park. The Prince loves Ping-Pong. His mission is to properly introduce Ping-Pong to Manhattan; he's plotting Ping-Pong establishments all over the city.
So went the tale around a recent party at the National Arts Club for Argentine artist Rirkrit Tiravanija, whose works include a $40,000 Ping-Pong table made of mirrored glass. "Have you heard about the Prince who lives in the Penthouse? He's about to open an exclusive Ping-Pong club." The party featured an exhibition match between a pair of 14-year-old Nigerian-born twins and 78-year-old U.S. singles champion Marty Reisman.
The Prince is Franck Raharinosy, a 33-year-old fledgling filmmaker and Ping-Pong impresario who last week signed a 15-year lease for the 13,000-square-foot basement of 304 Park Avenue. In the past six months, Mr. Raharinosy says, he and three business partners have raised close to $1.5 million to build Spin, a 14-table Ping-Pong social club, which will include a natty members-only lounge designed by Todd Oldham and sponsored by sportswear designer Fred Perry. They hope to open in May.
"We call him the Prince of Madagascar," said Jonathan Bricklin, 31, one of Mr. Raharinosy's partners. "He lives on the top floor of the National Arts Club, and right below him he's got his own private Ping-Pong room. It's like his own little palace."
"Franck can't be stopped," said Bill Mack, 35, another partner. "He's the type of dude who's going to meet a girl at a club and make out with her—or have sex with her in the bathroom."
Until last spring Messrs. Raharinosy, Bricklin and Mack lived together in a Tribeca loft, which also served as offices for their film production company, Ridiculous Inc., which produces movies, music videos, celebrity events and documentaries such as The Entrepreneur, which tells the story of Mr. Bricklin's father, Malcolm Bricklin, who founded Subaru of America when he was 28; the movie will be showing in New York later in the year. In the loft, of course, was a Ping-Pong table. The sporting fellows started throwing twice-weekly "Naked Ping-Pong" parties, sometimes featuring pro players and always featuring attractive women. There was no nudity but, according to Mr. Mack, "there was a steady flow of women in and out of Franck's room. … He's definitely had sex on the Ping-Pong table. His numbers are really high."
After the first Naked Ping-Pong party—June '07, 15 friends, $20 buy-in—the roomies knew they were onto something.
On a recent Sunday afternoon Mr. Raharinosy showed me around his "penthouse": a modest, sparsely decorated studio apartment whose soaring windows give a great view of Gramercy Park. He's lean and bounces on the balls of his feet as he walks. He has olive skin, dark hair and a broad, boyish face with searching eyes. He wore a white Fred Perry sweater over a black Fred Perry polo shirt, with black pants and black Pumas. He speaks softly, with a heavy French accent. He has beautiful posture. On the wall hangs a tattered document delineating the roots of the royal family of Madagascar. 
"So that's like the first king of Madagascar," he said, pointing. "And my dad's right here. So my dad is nothing, because at the time it had stopped, like, right here. It's just kind of cool, you know."
I asked about his pals' tales of his happy-go-lucky lady-bedding. "I'm attracted to beautiful women and great people in general," he said. "I'm just curious, and driven and that kind of guides me to great people. I'm not just like running after everything that's moving."
We rode the elevator down to a sixth-floor library, a vast space with an overhanging balcony, where Tim Nye, gallery owner and heir to a real estate empire, has allowed Mr. Raharinosy to set up a makeshift Ping-Pong parlor. I picked up a paddle. Despite my having reached the finals of a Ping-Pong tournament at a beastly summer camp when I was 13, Mr. Raharinosy promptly gave me a beating that reminded me of having my head held underwater by the camp bullies. His favorite move is a forehand smash, which involves a dramatic whip of his entire body, hips and all.
His friend Khairi Mdnor, a brand consultant who helped develop a Ping-Pong tournament for Puma, dropped by for a game. "There's a certain monotony to the game, and the sound," said Mr. Mdnor, his ponytail bouncing. "There's also less of a barrier—in other sports, there's always something: Size, age."
Naked Ping-Pong began as the solution to a problem: Friends kept dropping by the loft for a game at all hours, so no one could get any work done. After the first Naked Ping-Pong party—June '07, 15 friends, $20 buy-in—the roomies knew they were onto something. They began pushing the narrative that they were training for the 2012 Olympics. You paid $20 at the door, $10 more if you wanted to play. They added three more tables and began inviting pros such as Wally Green, a Harlem-born player who also raps. Sponsors began to circle; so did the media, which, according to Mr. Mack, might have had something do with the fact that a certain comely publicist was sniffing around Mr. Raharinosy. In 2008, Vitamin Water flew this Ping-Pong posse to Phoenix to be part of 50 Cent's Super Bowl party. Last April, Susan Sarandon came to one of their parties; she ended up hiring the boys to make a tribute video for boyfriend Tim Robbins' 50th birthday; she is also an investor in the new club. As is Jean Jacques Cesbron, the president of the classical music talent agency Columbia Artists Music, who commissioned the boys to make a Web series chronicling a tour by Chinese pianist Lang Lang.
"It turned into a networking orgy," said Mr. Mack. "There's something about the game that lends to that. I've never seen anyone network as well as Franck."
Mr. Raharinosy grew up in Lyon, France, an only child. He said that he was a shy boy and that when he was 10, his mother, who is French, put him in a theater company. When he was 13, his family relocated to Reunion, an island in the Indian Ocean not far from Madagascar.
"I used to have a boxer," he said. "Friends that would pick me up at school and we would go in the mountains with my dog and run from one side of the island to the other, and we had to actually run quite fast, because otherwise night would come down and it would be pitch dark. I used to jog on the beach with my dog or go swimming; the Indian ocean is amazing, so warm."
He also used to zoom all over the island on his motorcycle. When he turned 18, his father, who sold construction equipment, put the breaks on his allowance. He attended a local college where, he said, "there was this amazing cafeteria. Totally unoccupied. No one was doing anything with it. And there were 600 students there with no food to be bought. So I took a meeting with the director of the school." He got permission to operate the cafeteria, and orchestrated the delivery of pastries and sandwiches. He graduated with a business degree and $30,000 in the bank. Not knowing a word of English, he flew to L.A. on an internship with Air Outre Mer and spent three days stranded at the Radisson until he could figure out how to get in touch with his new employers. Soon enough, he was tooling around in a black Alfa Romeo convertible he'd bought for $2,000 while working in the airline's marketing department.
"The thing is, Franck loves women probably more than anything in the world," said Mr. Bricklin.
L.A. got boring and Franck got broke. He moved to Paris, where his friends lived, and got a job as a waiter at a fancy restaurant, which soon made him the nightlife manager. He was slowly recharging the savings account.
New York came calling, in the form of his cousin, French actress Maylin Pultar, who was married to producer Scooter Weintraub, best known for being Sheryl Crow's manager. They invited Mr. Raharinosy to come live with them in Tribeca for a summer. But before he arrived, they split up. Mr. Weintraub figured what the hell, he could use some company.
"He was supposed to stay for a few months; he wound up staying for like four or five years," said Mr. Weintraub, who looked on as Mr. Raharinosy worked as an MTV intern during the day and at clubs such as Life and Lotus at night. The accidental roommates tore up the town. "He's very driven," said Mr. Weintraub. "We used to call him Franckie Bisou, which means 'kiss' in French. I'm not sure I should be telling you this."
"My parents didn't help me at all," Mr. Raharinosy told me. "They're very simple. They're not wealthy. And also in like 10 years, I'd like to be involved in Madagascar, like at a political level, to help the people." Madagascar, where Franck's parents now live, is in the midst of civil war.
Between 2003 and 2006, Mr. Raharinosy did a fair amount of traveling, making a documentary about fashion designer Sebastian Pons; he also married and divorced a prominent showroom proprietor, and launched and abandoned a clothing line. "It was kind of a disaster," he said. "Every negative experience I believe will bring you closer to the place you want to be."
Messrs. Mack and Bricklin admit that Spin has come together largely because Mr. Raharinosy cannot be stopped. The Ping-Pong seed was planted at a party in a Soho loft in 2003. A Ping-Pong table was cleared off, a tournament ensued—Franck emerged as the star.
"The thing is, Franck loves women probably more than anything in the world," said Mr. Bricklin. " Everyone needs their own little shtick to help define them or look at them and give them some uniqueness. One thing that's cool about Ping-Pong is that your style, the way you play the game, represents your personality a lot. So Franck's style is super-passionate, and I think that intrigues the ladies."
"The Ping-Pong table got us laid—it's incredible how much," said Mr. Mack, referring to the days of the Tribeca loft. "It's fun, it's interactive. It's head-to-head. It's like dance, but there's more distance. It's very disarming in a way.
"Once Franck had two girls he'd been seeing for a while," Mr. Mack continued. "He told one of them that he wanted to have a threesome and she was into it. And at the Ping-Pong party, like during the Ping-Pong party, he tried to have a threesome. I think his real girlfriend was surprised."
Last summer, Mr. Raharinosy became engaged to ballerina Diana Mesion, director of the summer intensive program of the Bolshoi Ballet. "It was funny," he said, "I was riding my bike and I ran into Franckie Diago [the set designer], and she asked, 'How is your fiancée.' And I said, 'You know, it's funny you say that because I was just thinking about asking her.' So I went home and asked her. She was in the shower."
According to the groom-to-be, they're not in a hurry to get married. "We try to grow together in our relationship one day at a time," he said.