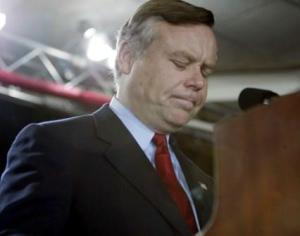 Next up on the Republican gubernatorial campaign schedule: Essex County Republicans will hold a Screening Committee on Tuesday evening to award their organization line. The favorite to win there is former U.S. Attorney Christopher Christie, who has the support – though not yet officially – of State Sen. Kevin O'Toole (R-Cedar Grove), the Essex County Republican Chairman. Look for a list of Essex endorsements for Christie to be released before the screening committee.
O'Toole and Christie some history together – O'Toole was one of the legislators who attempted to convince Christie to run in 2005. The political alliance between the former Chief of Staff to Essex County Executive James Treffinger and the man who sent Treffinger to prison as a federal prosecutor is indeed an interesting one.
And in the land of Republican gubernatorial politics, as goes Essex, so goes Passaic. So the winner of the Essex screening committee will likely replicate his success in Passaic, where Assemblyman Scott Rumana (R-Wayne), the Passaic County Republican Chairman, is an O'Toole ally.
A player in the Essex, Bergen and Passaic contests will be former Assembly Majority Leader Paul DiGaetano (R-Nutley), who is the biggest Republican name to have endorsed former Bogota Mayor Steve Lonegan so far. DiGaetano moved to Essex County after spending sixteen years as a Passaic City Councilman, and in 2005, he won the Bergen County Republican Convention when he ran for Governor.
Bergen County's Northeastern Republican Organization (NERO) will hold their convention on March 7. NERO was once among the premier Republican intramurals in the state, and it still offers an opportunity for a candidate without the backing of the party elite to mount a strong grass roots campaign and win their endorsement. Somewhat like presidential candidates in New Hampshire, NERO voters like to meet the candidates before they vote.
The marquee names in Bergen County Republican politics are standing with Christie, who received the backing of 234 party and elected officials last Friday, including two-thirds of the GOP Municipal Chairmen. If Lonegan is to break out in any establishment vote, it may be at NERO. Although less likely, Assemblyman Rick Merkt (R-Mendham) and Franklin Township Mayor Brian D. Levine have similar opportunities.
Last weekend in Union County, where Christie crushed Lonegan by 53 percentage points, Lonegan mounted a more aggressive campaign than he let on. The conservative did some door to door, sent out some mailers, completed an automated telephone call (aka robocall), and even flipped the Municipal Chair of the biggest city in the county from Christie to Lonegan. Lonegan is not depending on victories at the establishment level to win the Republican primary, but he's hardly abandoning the strategy.
Back in 2000, when Bob Franks was trailing Bill Gormley for the GOP U.S. Senate nomination, Franks scored an upset victory at NERO despite Gormley's endorsements from NERO powerhouse Gerald Cardinale, then-Bergen County Executive William "Pat" Schuber, and the Bergen County Republican Organization executive committee. Franks rode the NERO endorsement to a resounding victory at the Bergen County GOP convention.
Lonegan's best chance to upset Christie at a county convention could come in Middlesex, where delegates can be any registered Republican, not just County Committee members, as long as they register in advance.
In Bergen, the organization line does not necessarily mean a huge plurality of GOP votes on primary day. In 1993, Bergen County native Cary Edwards had the line, but only beat Christine Todd Whitman by 4,041 votes out of nearly 45,000 votes cast. In 2000, the Bergen line only produced a 41%-31% victory for Franks over Gormley. Franks was on the Bergen line for Governor in 2001, but only won 42% of the vote there against Bret Schundler.
In the 2005 GOP gubernatorial primary, DiGaetano won the Bergen County GOP convention, but among Bergen County Republican primary voters, he finished fourth with just 8% of the vote. In Bergen, Douglas Forrester beat Schundler 32%-28%, with Washington Township Committeeman Robert Schroeder finishing third with 12%. Lonegan finished fifth in his home county with 8%, just 45 votes behind DiGaetano. Behind Lonegan was former Bergen County Freeholder Todd Caliguire, who had 6% of the vote.