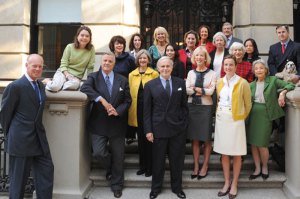 This Sunday, when a Times item reported that Brown Harris Stevens would be taking over the iconically genteel Edward Lee Cave boutique brokerage, baffled gasps echoed down Fifth Avenue. The firm will live on as a division of Brown Harris, said the headline—but "as an independent division," said the piece.
Did that mean the end of the city's monogrammed-shirted, Virginia-voiced broker? The man who practically invented the idea that multimillion-dollar uptown real estate is a proper thing to be handled by proper people?
"I'm going to tell you: They're not going to own me," Mr. Cave said this week. "Nobody's going to own me, nobody ever has or ever will. It's just not the way I am. We were well-born, and we got busy, and we got a good education, and we jumped out of bed in the morning and started working hard." (His family is rumored to go back to Robert E. Lee: "Hogwash," he once told The Observer. "We came to—we honestly did—Saint Mary's County in Maryland in 1680.")
It's thorny to pin down, but the five-year licensing agreement, according to Cave's brokerage president Caroline Guthrie, means that their group will associate itself with Brown Harris Stevens, which will get a share of profits in exchange for a yearly sum to Cave. "In six figures," Mr. Cave said, "not horrendous six figures." They'll get Brown Harris' much bigger marketing system, and well-respected Brown Harris will get Mr. Cave's lordly reputation.
"It will be the Edward Lee Cave division of Brown Harris Stevens, but we are licensing his name," Brown Harris' president Hall Willkie said. "Edward is correct when he says, 'I did not sell.'" The two go far back. "I gave him his first job," Mr. Cave said. "You know why I gave him his first job? Because his name was Willkie, and my dad did not like F.D.R. I swear to God, if I had been selling cracker jacks, I would have hired Hall."
And talks between them go back, too: "Years and years ago there was a deal to acquire it, and that fell through," a source said. "A Brown Harris Stevens person said to him one night, 'Oh, I understand that we own you.' And he just didn't care for that comment."
Mr. Cave confirmed the story. "That was the end of it. It was an offer I could refuse and I refused it."
This time around, he said he wanted to give his brokerage everything it needed to flourish in the future. And, as it happens, Mr. Cave is still in talks to share ownership of the firm with Ms. Guthrie and senior vice president Kathryn Steinberg. "Because I want a better company for the next generation" Mr. Cave said. "Edward Lee Cave, Roman numeral II."
mabelson@observer.com