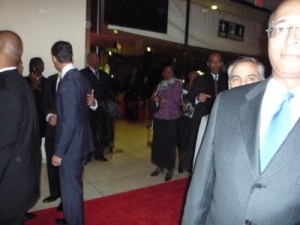 ALBANY—Here's a picture that almost shows mayoral hopefuls Bill Thompson and Anthony Weiner in the same frame as they walked into the black-tie dinner at the New York State Association of Black and Puerto Rican Legislators conference last night.
Thompson, whose father helped found the organization, later gave a speech making the case for his candidacy.
Weiner did not speak.
Andrew Cuomo, who is not running for governor for now, made a rousing speech, in contrast to David Paterson's message of budget austerity. "All the planets are aligned," Cuomo said, referring to Democratic control of the White House and critical offices in state government.
There was also a sizable contingent from the New York City Council. I spotted David Yassky, Bill de Blasio and Charles Barron. Barron was the only one who managed to get on stage, walking out behind his wife, Assemblymember Inez Barron.