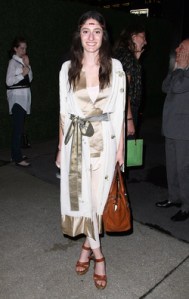 Socialite Arden Wohl, who is often described as a "filmmaker" in the press, has written and directed a new short film, Two Other Dreams, which will debut at Art Production Fund's Lab 15 space on Wooster Street this weekend. 
In 2006, Ms. Wohl released a debut film called Coven, which was a retelling of the fairy tale Hansel and Gretel featuring a voice-over by the socialite's longtime friend, Leelee Sobieski. Ms. Wohl made the film during her last year at NYU film school and screened it at Art Basel Miami Beach. 
Ms. Wohl's latest short, co-written with her childhood friend Darsi Monaco, is about the codependent relationship between two women, Maisie and Galen, played by Ms. Sobieski and the actress Azura Skye, who recently had small roles on the TV shows The Mentalist, House and Ghost Whisperer. The film, listed on IMDb under the "fantasy" genre, is described by Ms. Wohl as a dark comedy and love story between friends whose relationship is complicated by their bond and power dynamics. 
"It's autobiographical in some respects," Ms. Wohl told Women's Wear Daily a few months ago.  "The film centers on Galen and the things — religion or sex or drugs or food — that make her feel human." (Ms. Wohl also told WWD that the characters represent her relationships with her sister, ex-boyfriend, and best friend.)
The film opens on Sunday and runs through Feb. 28.