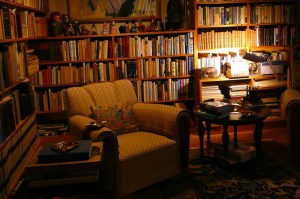 Exuberant is the best word for Molly Haskell's Frankly, My Dear (Yale, $24), a slim, unfailingly intelligent, fact-filled book that sets out to explain why Gone With the Wind (both book and movie) exercises such a potent and enduring hold on our imagination. Ms. Haskell, who's married to The Observer's own Andrew Sarris, argues convincingly that the power of the Gone With the Wind archetypes—their "extraordinary human resonance"—derives principally from the deeply divided natures of Margaret Mitchell, David Selznick and Vivien Leigh. The argument touches on a wide variety of complicated topics, from race and gender to mass culture and the history of the Civil War, but that doesn't stop Ms. Haskell from paying minute attention to the details, say, of the saga of how Leigh got to play Scarlett. In short, Frankly, My Dear is both ambitious and entertaining, cultivated and gossipy. On the one hand, Ms. Haskell quotes William James on our eternal fascination with war; on the other, she quotes Howard Hughes on the difference between swaggering Victor Fleming and the kindly, sensitive George Cukor: "Victor has the same talent, it's just strained through a coarser sieve."
To give you a taste of the sheer verve of Ms. Haskell's writing, here's her summary description of Leigh, Ingrid Bergman and Greta Garbo before they were transformed into bona fide stars: "These actresses hadn't yet had their eyebrows plucked, their teeth whitened and straightened, their breasts raised, their hairlines changed—in other words, been submerged in the Hollywood developing emulsion that raises star power to its full electromagnetic force."
COLLECTING RARE BIRDS is a hobby worthy of a Flannery O'Connor character, and her famous fascination with peacocks fits, too, but the odd touch that's perfect—a tidbit I picked up from Brad Gooch's excellent Flannery (Little, Brown, $30)—is that O'Connor more often referred to her peacocks as "peafowl." That hint of perversity, of stubborn precision, evoked for me in a word the full, creepy splendor of the author of Wiseblood and The Violent Bear It Away. O'Connor worked on the latter, her second novel, for six years; she prayed for it when she was visiting Lourdes—and reported to a friend that her "little vacation from the Opus Nauseous seems to have done me some creative good anyway." Shall we say that the O.N. grew into a miraculously fine piece of work?
Mr. Gooch's is patient and tactful with the publicity-shy and dauntingly complex O'Connor. His book is a welcome introduction to the quiet, narrow life of a fiercely funny and unnervingly powerful writer.
(Flannery is graced with an apt blurb from Joel Conarroe: "A good biographer is hard to find.")
DAVID GRANN's The Lost City of Z (Doubleday, $27.50) is also a biography of sorts—of Percy Fawcett, the indefatigable British explorer who spent two decades crisscrossing the Amazon jungle in search of an ancient civilization (which he called "Z" and the rest of us would probably call Eldorado). Fawcett never located his lost city; he found only misery and disease and more biting insects than there are fish in the sea. Fawcett, his 22-year-old son and his son's best friend all vanished in 1925, somewhere in the Mato Grosso, and their fate remains a mystery to this day.
Mr. Grann's book is a story of obsession: Fawcett's; that of the 100 or so explorers over the years who have died trying to find out what happened to him; and Mr. Grann's, which sent the New Yorker writer into the Amazon in search of his own Z—"a hidden metropolis of words and paragraphs"—a blockbuster tale of adventure. I'm pleased to report that he found it.