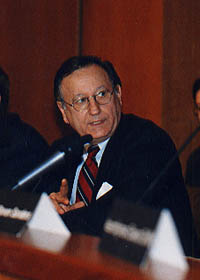 The battle by tenant advocates to repeal a key rent regulation law favored by landlords just got a boost from a Republican.
Last week, Frank Padavan, a Republican state Senator from Queens with an independent streak, signed on as a co-sponsor to a bill that would repeal vacancy decontrol, a law that allows landlords the ability to remove their apartments from rent stabilization when units go vacant. The legislative skirmish is being closely watched (and influenced) by tenants and landlords alike, as a repeal of the law would have far-reaching consequences for many renters and property owners.
Mr. Padavan's support crosses party lines—the Republicans fiercely defended vacancy decontrol up until they lost their majority to Democrats last year—and gives tenant advocates an extra vote on an issue where single votes may be crucial. Twenty-three names, all Democrats save Mr. Padavan, are listed as sponsors on the bill, though it's reasonable to expect more Democrats to support the legislation. Last year, 26 of the then 29-Democrat minority signed a letter endorsing a similar bill.
Now the Democrats control the chamber, 32 members to 30, though the three most crucial on this topic, Majority Leader Malcolm Smith, Deputy Majority Leader Jeff Klein and Housing Committee Chairman Pedro Espada Jr., have yet to take clear public positions on vacancy decontrol. Both Messrs. Smith and Klein are generally seen as more conservative on housing issues than the bulk of the Democratic conference. Mr. Smith was once a real estate developer and Mr. Klein oversees fundraising, where the real estate lobby has influence.
Earlier this month, the Assembly passed a similar bill as part of a larger tenant-oriented legislation package. The full repeal of vacancy decontrol is more extreme than another measure that has previously been floated: raising the rent threshold for when a vacant apartment can be taken out of rent stabilization, currently set at $2,000 a month.
Asked about his support for the bill yesterday, Mr. Padavan said he has long been a supporter of tenant rights, and he tried to fight vacancy decontrol legislation when it was pushed through the state Senate in 1997 by then-Majority Leader Joe Bruno.
"It's abused in a significant way," Mr. Padavan said Thursday. "A certain percentage of the property owners do all kinds of things to get up to that $2,000—push people into free market rents, and it's reducing the affordable housing stock significantly each year that goes by."
Mr. Padavan also said that he was in favor of repealing another key piece of legislation, the Urstadt Law, which would allow housing policy to be set by New York City government, as opposed to the current system, which leaves Albany in control of all housing legislation.
That position puts him at odds with the mayor, who has taken a rare position for him: supporting Albany's control over city affairs.
Landlords vehemently oppose the repeal of either law, among other tenant-friendly bills Democrats are considering. Few advocacy groups expect any action on these laws until after the budget, due April 1, is complete.