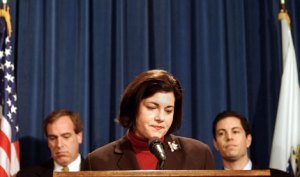 David Paterson is looking more and more like another Jane Swift.
 For the past few years, Swift has served as the standard by which failed acting governors are measured. In 2001, she claimed the top job in Massachusetts – the first woman ever to hold it – when Argeo "Paul" Cellucci quit to become the ambassador to Canada.
As with Paterson (and all accidental governors), Swift's began on a promising note. Friendly media profiles boosted her popularity and historic nature of her elevation struck a chord with the public (she also had twins shortly after taking power, becoming the first governor to give birth while in office). She was sworn-in in early 2001, enough time, it seemed, to settle in and win a full term on her own in 2002. Certainly, it was assumed, winning the '02 Republican nomination wouldn't be an issue.
It all unraveled, though, and quickly. One blunder, misstep, and embarrassing headline after another, Swift rapidly built a reputation for political tone-deafness and administrative incompetence. She used aides to baby-sit her young children and a state helicopter to fly to and from her western Massachusetts home on weekends.
Throughout 2001, her poll numbers slid – and talk grew that the super-ambitious Mitt Romney, who was then off in Utah running the 2002 Olympic games, would take her on the Republican primary. Romney, of course, dismissed the talk and expressed support for Swift, who professed herself unworried about her '02 prospects.
But Republicans, who had controlled the governor's office for the past 12 years, were increasingly panicked. When the Olympics ended in February '02 and Romney made his highly publicized return to Massachusetts, a poll of Republican primary voters found a stunning result: in a two-way race, Romney led Swift, 75 to 12 percent. Two days later, Swift bowed out of the race for "family" reasons and Romney jumped in. The rest is history.
The parallels to Paterson's situation are obvious. As with Swift, he has to contend with a big name intraparty rival, Andrew Cuomo. And like Romney, Cuomo doesn't have to do anything but sit back and keep collecting his own headlines while the acting governor self-destructs. Sure enough, this morning's new Quinnipiac poll has Cuomo opening a Romney-esque 55-23 percent lead over Paterson in a prospective primary.
 In theory, there's still time for Paterson to reverse his slide. But his performance to date suggests a radical, confidence-inspiring turnaround just isn't going to happen. Opinion is hardening against him. Increasingly, the Paterson-Cuomo showdown seems destined to end just like the Swift-Romney clash: with a whimper, and not a bang.