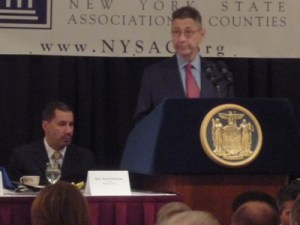 COLONIE—David Paterson said that he would veto a tax increase on high-income earners–if it came before sufficient spending cuts were made.
"What I'm hearing is–that this is a different way to substitute the necessity of spending cuts–is not helping to reduce the state deficit," he said to reporters after speaking to a conference of the New York State Association of Counties.
The question came up today because a bill that would implement the so-called "millionaire's tax" has just reached the State Senate, where it has some chance of moving forward now that the chamber is ruled by Democrats.
The Democratic State Assembly passed a similar measure last spring, although it had no chance of becoming law at the time. Assembly Speaker Sheldon Silver has been a longtime proponent of taxing high-income earners.
Asked if he would veto the legislation, Paterson said, "I think I would if there is the type of tax increase that is just designed to recreate spending."
He then clarified that he will draw a "line in the sand" if legislators fail to enact cuts in the "general vicinity" of $11.2 billion.
Paterson not held a consistent position on the issue–at times saying he is opposed to it, at other times saying it's on the table, and then alternatively seeming totally resigned to having to implement it.
Today Paterson also flatly rebuked a call from Republican Senate Leader Dean Skelos that he re-submit his proposed budget after considering the money forthcoming from the federal stimulus package.
"I haven't seen his suggestion of how he would balance the budget," Paterson said.