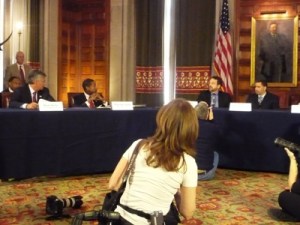 ALBANY—Republican legislative leaders are raising concerns about regional balance for stimulus infrastructure money, which David Paterson and his top officials say has to be appropriated as quickly as possible.
Paterson is sitting in the middle of a table in the Red Room flanked by his top advisors Tim Gilchrist and Marty Mack. They're talking to reporters as well as to the leaders of all four legislative conferences about how the stimulus money will be spent.
"In light of what you said about speed, this should all go in a straight line as quickly as possible and maintain upstate-downstate balance?" asked Assembly Minority Leader Jim Tedisco.
"I think it's critically important that this be driven by traditional shares," Senate Minority Leader Dean Skelos said.
Gilchrist explained that some of the stimulus money is specifically tied by the federal legislation to be spent in urban areas–this is the case for 30 percent of the urban transportation projects.
"We have a challenge to obligate over $392 million in transportation improvement projects by June 17," he said.
Earlier this week, Gilchrist told a collection of municipal representatives that there were more project requests than money, and that transportation projects not already on a regional transportation improvement program would probably not be approved quickly.
Paterson said the money will be spent in a "transparent," "immediate," and "effective" manner.
"We want as many eyes working on these projects as possible so that they move as swiftly as possible," Paterson said. "It will be my responsibility to make sure that we use it, because if not, we will lose it."