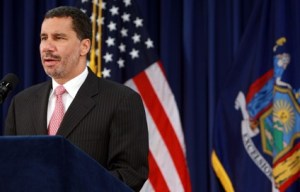 ALBANY—David Paterson is committed to spending "a lot" of the federal stimulus money intended for health care on health care, but told a group of medical professionals that "before we start to pour billions of dollars in from President Obama's stimulus package, we need change."
Paterson made the case for shifting spending from hospital inpatient care to preventive care, which he said has received only "meager resources" in recent years. He also criticized the media campaigns from the health care union and hospital association, saying they are inaccurate.
"In this particular case, they would have you believe that to decrease funding for high-costling inpatient procedures would somehow close down emergency rooms, lay off workers, and strike fear into the hearts of patients," Paterson said at a health-care forum at the New York Academy of Medicine.
He didn't get into specific numbers, citing the fluid nature of budget negotiations, but said, "We will be dedicating a lot of the FMAP money to the alleviation in our original budget projections for reduction of growth in health care."
In the past, Paterson has said he will look at restoring cuts to social service providers and rolling back proposed tax increases—which the governor called "regressive"—with some of the additional money.