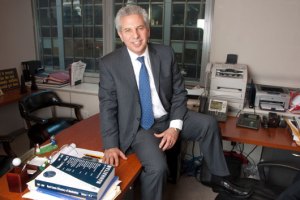 A prospective tenant in Manhattan recently included her unemployment payments as financial ballast on her rental application. Instead of being mocked or disregarded, the application was accepted, according to Marc Lewis, whose Century 21 NY Metro represents the landlord.
Oh, my, how times have changed.
Anecdotes abound about ready-to-negotiate landlords and falling rents. And the old standby economic principles of supply and demand seem surpassed by popular perception. It's a renter's market because, well, everyone says and thinks it is.
That's really only partially true. Yes, the dismal economy has spawned vacancies and caused rents to drop. But the tide has changed so quickly that something else must be afoot.
Call it landlords on early defense, or tenants, long shafted, now terrifically emboldened: Either way, perception, more so than economics, seems the last few months to have been fueling this ship.
Traditionally, the status of the rental market is closely linked to the job market. If unemployment is low, demand for apartments will be high. Conversely, when the job market is poor, demand sags and rents fall. In December, the unemployment rate in New York City was 7.4 percent, a month-to-month increase of one percentage point and the highest it has been since July 2004.
Those jobless figures are starting to carry over into the office market. The vacancy rate in January for top-shelf, Class A Manhattan space tipped past 10 percent for the first time since November 2004, according to Colliers ABR, and there is more square feet available for lease than at any time since December 2003.
Such an unemployment-spurred jump in office vacancy is supposed to impact the apartment market after a few months. Qualified tenants become fewer and farther between, and landlords eventually react by lowering rents.
Not so this go-round: Landlords pulled the trigger quickly, as soon as in September and October of 2008, just on the cusp of the financial crisis. It was a matter of reading the financial tea leaves and knowing that this recession ain't your grandfather's. It would be much worse, and tenants knew it, too.
"It's a psychological thing," said Maria Daou, an associate broker at Warburg Realty, "because people want deals in this market and unless they feel like they are getting a deal, then they will keep on looking." 
Ms. Daou has noticed a surge of relocating renters looking to trade down on their apartments and find cheaper places. Mr. Lewis of Century 21 sees much the same thing. "The perception now is that you can move to save money," he said. It used to be that people moved to Boston or Philadelphia or New Jersey to save money, but now they can stay in the city, Manhattan even, and do the very same thing.
Many landlords, Mr. Lewis said, have already lowered rents to adjust to the grave new world, only to have apartment hunters demand further price reductions or expanded incentives during negotiations. "They can only go so low with their rents until it's just not worth it to rent an apartment because of all the cost factors involved," he said.
The worry for landlords now, of course, is how long the perception might last. If the recession continues into the spring and summer, and if layoffs keep pace with December's frighteningly high unemployment rate, then tenants will just expect more of the same from property owners. A quick rebound in the job market would surely help change the dynamic, but that seems exceedingly unlikely in the short term. Things are bad, and everyone knows it.
The financial crisis destroyed consumer confidence, and as long as people keep their money in their wallets and bank accounts, it's hard to imagine them spending more to rent when they know they don't have to. Perhaps the federal stimulus will drive consumer spending; or the banks bailout; or the spring weather. Hope and change, anyone?
Whatever the impetus, until then, landlords might as well get used to seeing a lot more unemployment checks on rental applications.
ohaydock@observer.com