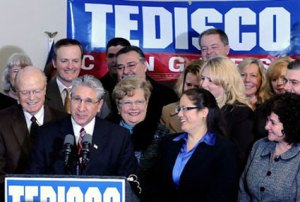 ALBANY—Jim Tedisco is leading Scott Murphy by 12 points (46 to 34) in a new poll released today.
That's a pretty good showing for Murphy, who had nearly no public profile when he announced his candidacy at the beginning of this month to succeed Kirsten Gillibrand in Congress. It's also less than the 15-percentage-point partisan enrollment edge.
"So far, Murphy has done a better job of garnering the support of Democrats, 70-16 percent, than Tedisco has done with Republicans, among whom he leads 63-18 percent.  Tedisco, however, has a significant 45-31 percent lead among independent voters," said Steve Greenberg, a spokesman for the Siena Research Institute. "While Murphy has a slim two-point lead in the northern part of the district, Tedisco has an 11-point lead in the southern part of the district and Tedisco leads by 20 points in Rensselaer and Saratoga Counties, the largest portion of the Congressional district."
Saratoga County is the most populous part of the district, and Tedisco has represented part of it in the State Assembly for over 20 years. He has appeared at numerous events there, while Murphy in recent days has been focusing his efforts in the southern portion of the sprawling 10-county district.
The poll also found that the heftiest endorsement in the eyes of those surveyed was that of Kirsten Gillibrand. She came out for Murphy two weeks ago.
Siena polled 710 likely voters at the end of last week.