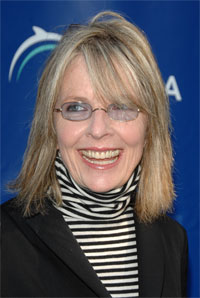 A long competition over Diane Keaton's memoir, which compelled some of New York's busiest editors and publishers to clear their schedules last week and fly to Los Angeles to meet the actress, drew to a close Friday night.
The winner—sorry HarperCollins, Ecco, and Little, Brown—was the flagship imprint of Random House. David Ebershoff, who has edited Norman Mailer, Gary Shteyngart, and Charles Bock, will work with Ms. Keaton, who intends to write the book herself instead of using a ghostwriter.
William Morris agent Bill Clegg, who sold Ms. Keaton's book and presided over the meetings, said last Monday that Ms. Keaton's book "could be an enduring book about mothers and daughters and the choices that women of her generation and her mother's could make and did."
Mr. Clegg, who took final offers for Ms. Keaton's book after the publishers pursuing it came back from Los Angles late last week, declined to comment on the deal this morning.
No word as of yet how much Random is paying for the book, though as Crain's reported at the beginning of the process late last month, the first round of bidding—which determined who got to take those meetings with Ms. Keaton in Hollywood—inspired at least one house to offer an advance worth $2 million.
After that, it was westward ho for all those still in the game: from the Harper imprint of HarperCollins, Jonathan Burnham and Jennifer Barth; from Little, Brown, Michael Pietsch and Reagan Arthur; from Random House, Mr. Ebershoff.
Several people said that Daniel Halpern from the Ecco imprint of HarperCollins was also interested in the book, but that he talked to Ms. Keaton by phone instead of flying all the way to L.A.
Neither Mr. Ebershoff nor Carol Schneider, the publicity director at Random House, immediately returned calls seeking comment.