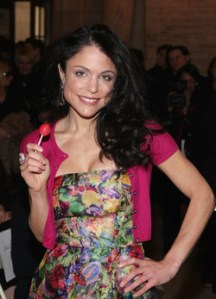 Audience members at Jill Stuart's show on Monday included a number of starlets—Michelle Trachtenberg, Amanda Bynes, Kristen Bell—who were all anxiously ushered by what appeared to be a SWAT-team of bodyguards. Real excitement ensued, however, when sisters Paris and Nicky Hilton, both wearing leather jackets, took their seats in the front row. And apparently we have Bethenny Frankel, one of the cast members of Real Housewives of New York City, to thank for that. "Bethenny asked them to come to the show, to give them a copy of her new book," Ms. Frankel's publicist told the Daily Transom. Ms. Frankel, who is a natural foods chef, added: "It's called Naturally Thin. It's all about staying thin, but healthy."
Do the Hilton sisters need books on staying thin? "They're in the book!" said Ms. Frankel. "You know, I used to baby-sit Nicky and Paris. Actually, you're the first person I've told that to."
Come again?
"Kathy Hilton's sister, Paris and Nicky's aunt, is a very, very good friend," said Ms. Frankel.
So what were the Hilton sisters like to baby-sit? "It's all in the book, it's all there," she said. "I included them because they're such a good example of good eating. You know, they're not obsessed with food-they sometimes eat a cheeseburger."