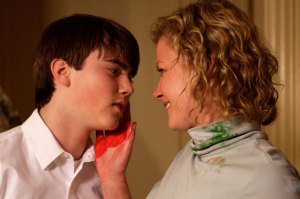 An American Affair
Running time 96 minutes
Written by Alex Metcalf
Directed by William Sten Olsson
Starring Gretchen Mol, Cameron Bright, Noah Wylie
Hollywood's obsession with the assassination of President John F. Kennedy plods on, peeking through keyholes, peering under frayed carpets and sniffing out new conspiracy theories fed by whim, suspicion, conjecture and rumor, with no end in sight. The preposterous An American Affair, set in the time of Washington's nervous breakdown over the Bay of Pigs, the Cuban missile crisis, newsreels of Nikita Khrushchev embracing Fidel Castro, and Walter Cronkite weeping for a nation in shock over the events in Dallas, implies the answers to all unsolved mysteries were shared by a blond tart who was J.F.K.'s mistress and a 13-year-old boy who lived across the street. I mean, what next? The discovery that Lee Harvey Oswald plotted the death of Marilyn Monroe to further the career of Mamie Van Doren?
In this smoke ring of intrigue, a sexy morsel named Catherine Caswell, who poses nude in her bedroom window to enchant the residents of Georgetown (played by Gretchen Mol, who has shown it all on a regular basis, sparking up one mediocre movie after another), attracts the attention of a preppy kid named Adam (Cameron Bright), who watches her through a telescope lens from his own bedroom window. While she's stripping above, dark limos arrive in the alley below, depositing the Secret Service and J.F.K. Understandably distracted from the dull routine of nuns, bullies and girls at his Catholic school and curious to get a closer view, Adam applies for a landscaping job in the lady's garden. Suddenly an adolescent with raging hormones becomes a witness to one of history's most captivating chapters. Catherine, it turns out, is being used by her ex-husband, who is some kind of unexplained government informer, and the C.I.A. to persuade the president to deal with the Cubans or his life will be in danger. The kid gets a close-up of his boss' nudest assets as well as her secret diary detailing all of the secrets of the forthcoming horrors in Dallas. He steals the diary and learns the secrets that changed the world, placing his own life in danger; sexpot Catherine ends up in a pool of blood in the neighborhood alley; and the diary lands in the flames of her fireplace, the unsolved mystery of who killed J.F.K. in ashes. Meanwhile, the boy's father, a respected Washington journalist (Noah Wylie), shrugs off the story of the century like it was the discovery of a grocery list. What makes the movie doubly unsatisfying is its inference that every aspect of the J.F.K. assassination, down to the remotest detail, was fueled by overactive libidos, and its stubborn refusal to reveal the contents of the diary that made it such a threat to national security. Maddening.
Forget the ambitious script by Alex Metcalf and the slacker direction by William Olsson—who comes from Sweden by way of the University of Southern California—that reduces the Cold War to heavy breathing and a bottle of scotch. The real scene stealer in An American Affair is Gretchen Mol, who has lost none of her full-frontal allure since The Notorious Bettie Page. Firm and confident with supple thighs and perky nipples, she's made a career out of showing them off to all and sundry. Like the old studio cards audiences used to fill out at sneak previews, I say "Give us more like this."
rreed@observer.com