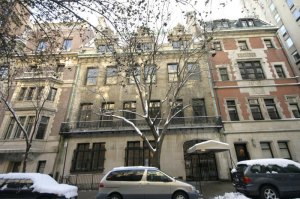 Like some horseman of New York's super-luxury real estate apocalypse, an incontrovertible sign that this high-chinned world really is in profoundly deep trouble, billionaire J. Christopher Flowers is putting the Harkness Mansion back on the market for millions of dollars less than what he paid for it two and a half years ago.
According to a source, Mr. Flowers' 113-year-old, 50-foot-wide limestone townhouse at 4 East 75th Street is quietly being offered for $49.95 million, even though in 2006 he paid $53 million, still the biggest-ever individual deal in New York City. (Last year, real estate tycoon Harry Macklowe was said to have paid around $60 million for a spread of Plaza apartments, but city records puts his biggest individual deal below Mr. Flowers' mark).
That source said that if the Harkness listing becomes official, the broker would be Brown Harris Stevens' Sami Hassoumi, who represented Mr. Flowers when he bought the mansion from Woody Allen's former producers, banker Jacqui Safra and his longtime girlfriend, Jean Doumanian.
Mr. Hassoumi, who according to his profile at the brokerage is "Tunisian-born and Sorbonne-educated," had no comment.
"That's going on the market because the guy's getting divorced," a second source, voice quite low, said this Monday.
Mr. Flowers, who leads his own massive buyout firm, had no comment. Last year, he bid on both A.I.G. and Bear Stearns, then shared a $20 million fee for advising Bank of America on its ill-fated Merrill Lynch purchase. "There's going to be a lot of money to be made around the edges of this thing," Mr. Flowers said last week at a panel with Pete Peterson and Hank Greenberg. "Lowlife grave dancers like me will make a fortune."
But Mr. Flowers won't be making money on Harkness (named after a Standard Oil heiress who owned the place last century). According to renovation filings with the Department of Buildings, he spent over $4 million gutting it, but a source said that official estimate is wildly low. The sum Mr. Flowers has spent on gutting and planning to renovate the space—which, according to city records, is well over 20,000 square feet, twice the threshold for what qualifies as a mansion—may be $12 million. "I am simply not free," said the classic patrician designer Peter Pennoyer, who has done work for the Colony Club, and is listed on Harkness permits, "to speak about this project."
According to that source, Mr. Flowers had planned to build over what is now a gargantuan, open center atrium. "There's a skylight at the top, and a Ping-Pong table smack in the middle of the floor," The Observer reported three years ago. "What Jacqui Safra would do is invite his buddies over to the house and drink beer and play Ping-Pong beneath the lights." (On the recreational bright side, the Landmarks Preservation Committee approved Mr. Flowers' plans to create a below-ground "recreation room and vestibule" by excavating the rear yard.)
However high his renovation costs have run, the fact that Mr. Flowers is resigned to losing several million dollars on New York's shiniest trophy property says something gruesomely terrifying about the emotional and financial condition of glamorous New York real estate. But it also says something about Mr. Flowers: $15 million would be much less than a single percentage point of his net worth, according to last year's Forbes billionaires list.
But the go-go times have changed.
Once, a long time ago, a $40 million deal at Fifth Avenue's Duke Semans had less than seven months to enjoy its record-setting townhouse price before Mr. Flowers and his $53 million came along at Harkness. Those were wrenchingly glorious, wrenchingly decadent days! Even though they're long gone, top brokers remain optimistic: Paula Del Nunzio, who worked on both of those record mansion deals, said in an interview only last month that Mr. Flowers' townhouse could sell for nine digits. "If you take a house that's got 20,000 feet, and if it were $5,000 a foot, there's your $100 million."
mabelson@observer.com