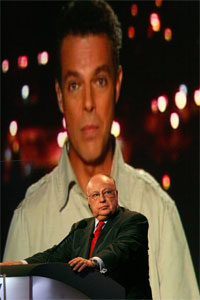 In the March 2009 issue of Esquire, Tom Junod profiles Fox News' Shepard Smith in a piece headlined Because They Hate Shepard Smith and Want Him to Fail.
Right up front in the article—a companion piece, of sorts, to the What I've Learned feature the magazine did with Mr. Smith in December 2008—we learn that Mr. Smith has "a face made for television, a face seemingly created not just for the cameras but by them, a brand-name face that could be made into a mask and worn on Halloween."
Citing Mr. Smith's bosses at the network—Roger Ailes, John Moody, and Sharri Berg—Mr. Junod asks, "Is it fair to say that another distinguishing characteristic of people like Ailes and Moody and Berg and, yes, Shep is that they can also keep a straight face when they insist that ideology has nothing to do with what is reported on news programs like Shep's 7:00 P.M. Fox Report?"
Mr. Smith certainly thinks so. He tells Mr. Junod:
'There has to be news at a place called Fox News… But we are under intense scrutiny because of our opinion shows. Are there people who want the news done a certain way? You bet there are, and some are in this building. But they don't affect what I do. The inner pressure and outer pressure that everyone thinks exists doesn't. When I hear people say that Fox News is right wing, I know that's not true, because I'm the one doing the news. It's my show, and there's no place for opinion on my show. It's uninteresting to me. I don't care what Sean Hannity thinks and I don't care what Alan Colmes thinks and I guarantee they don't care what I think and they don't know, either. You know what's interesting to me? What's interesting to me is that the thing people want to know about is the part on which I spend absolutely no time.'
Last year, The Observer's Felix Gillette spoke to Mr. Smith in Ailes Acolyte Shepard Smith's Super Bowl Sunday!