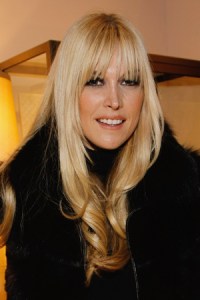 In January, the Daily Transom reported that the socialite Tinsley Mortimer's attendance at galas and cocktail parties was dwindling. In the first half of 2008, Ms. Mortimer was photographed attending 30 different parties; in the latter half of 2008, she was photographed at only 15. At the time, Ms. Mortimer was rumored to be going through a separation from husband Topper Mortimer due to his alleged "promiscuous ways," and so we figured that was the reason for her social hiding-out of sorts.
But then, Ms. Mortimer re-appeared during Fashion Week at the shows of Max Azria, Kimora Lee Simmons' Baby Phat, and Richie Rich. And with brand new bangs! Naturally, Park Avenue Peerage immediately posted Ms. Mortimer's photo on Friday morning, along pictures of fellow young socials like Bee Shaffer, Mary Kate Olsen, Poppy Delevigne, and Jen Brill, with the headline "Très Très" attached.
In the photo, the socialite is smiling from underneath a blond fringe of hair, wearing a fuchsia dress, a matching mani and pedi, and open-toed black shoes. (According to the website, Ms. Mortimer's glow was due to her weekend in Palm Beach where she hosted a trunk show for Samantha Thavasa at Saks Fifth Avenue.)
Throughout the day, the Web site's commenters posted breathless responses to Ms. Mortimer's new haircut and sunny appearance. (The Observer's commenters were not as kind in response to our January post and suggested that the socialite was spreading rumors about her husband to conceal an affair she's been having with "a German man" for the past year.)
"Tinsley looks startlingly different… and I love it! So chic," wrote the first commenter.
"Who is this new Tinsley? talk about a total makeover. I love it though… she looks great," wrote another.
"Très très chic indeed… go Tins!" wrote a third.
It's nice to see that Ms. Mortimer's devoted fans don't abandon their queen in times of hardship.