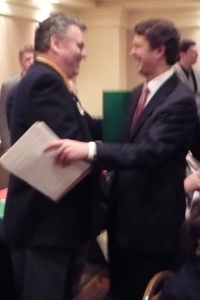 COLONIE—Rick Lazio walked into the state Conservative Party's annual Political Action Conference yesterday just as the previous speaker was finishing up.
As Lazio was introduced by James Malone, an old friend from Long Island, the room began to fill, until there were no more empty seats and some attendees were left standing in the back.
The crowd probably had something to do with a recent report that Lazio may be considering a run for governor in 2010. He did not answer that question definitively yesterday, but he did give supporters plenty of material to speculate over.
Dressed in a dark suit with thin white stripes and a red tie, Lazio began his speech by praising the election of Barack Obama as reflective of American meritocracy, before addressing the state's political climate and high level of health and education spending.
"It happened because people in Albany were more concerned about staying in office and playing tactical politics than about where we were going as a state, and what vision we might have for ourselves," Lazio said.
In the speech, which took place in a windowless room at the Holiday Inn Turf near the airport, Lazio went on to attack the archaic ways of Albany, describing as a contrast the British parliamentary system and the compulsory "Question Time" for the prime minister.    
"We need a governor of New York who's got the courage and conviction and the smarts to do that," said Lazio, who has been working for J.P. Morgan since leaving Congress in 2000, and hasn't run for office since his unsuccessful Senate campaign against Hillary Clinton the same year.
Lazio encouraged attendees to be more active. He took one question at the close of the speech, then left the podium and walked to the back of the room, shaking hands with Representative Peter King, who had settled in the back row, and a candidate named Paul Bertan, who was wearing argyle socks and a blue blazer with an orange button saying "Bertan for Congress," who gave him a flier.
Proceeding to the anteroom, Lazio turned into a dead end and was confronted by about a half-dozen reporters.
"I meant to say at the beginning that it wasn't a stump speech," Lazio said, drawing a rounder laugh than at any point during the speech. "I don't think the only way to be engaged is running for office, but I think there are issues that need to be surfaced, I think people need to realize there are solutions, there are other states that are finding ways to address some of the problems that New York has, and we're just not doing what needs to be done. I can't imagine New York continuing on his path for the next 10 years, and being the kind of place that I'm proud of."
He was pressed on the issue of running–an idea that has become less outlandish for Republicans in the wake of the latest fumbles by David Paterson.
"Am I thinking about it?" he said. "Sure, I'm thinking about it."
There was another question about his thoughts on David Paterson's performance (not answered) and one on whether he would stand behind Rudy Giuliani as a statewide candidate. (He laughe.)
And then he excused himself.