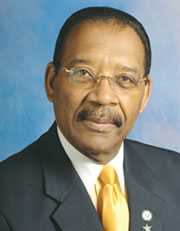 ALBANY—It began this weekend when Senate Majority Leader Malcolm Smith said he didn't think there were enough votes in the State Senate to pass a bill legalizing same-sex marriage.
Smith's press shop immediately backpedaled, pointing out that what he said was not necessarily what he meant, and openly gay State Senator Tom Duane did the same. (Irene Liu has a good summary of the spin here.)
I just asked State Senator Ruben Diaz Sr., an outspoken opponent of same-sex marriage, for his reaction to the reports, and where he felt the bill stood.
"I don't want to talk about it," Diaz Sr. said. "No comment."
No joy, no happiness, nothing. I asked Diaz Sr. why, given that this issue is very important to him.
"I know, it is still," he said. "We'll see what happens."