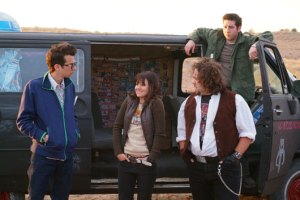 Here's the thing: We know we saw Fanboys last week, but as we sit here (just mere days later!), we find ourselves having trouble remembering specifics. But perhaps that's not so surprising, considering this movie isn't really meant to be weighty or thought-provoking, but rather zany and fluffy—tasty as an Easter-colored Peep. In fact, if we were to stretch this analogy out further, watching Fanboys was very much like our experience eating Peeps, in that the concept of both this movie and the neon marshmallow bunnies are similarly bizarre and implausible and also leave you with a bad feeling about yourself after consuming them.
Set in 1998, the movie revolves around a group of dudes who consider themselves the ultimate Star Wars fans. Eric (Sam Huntington, who greatly resembles Ethan Embry in Can't Hardly Wait, which really was released in 1998) has grown apart from his childhood friends, working in his father's car dealership and secretly penciling comic books at night. His aforementioned friends are more outwardly and obviously nerdy—Hutch (Dan Fogler, doing an odd Jack Black–in–any–movie impression), Windows (Apatow player Jay Baruchel), Linus (Chris Marquette) and Kristen Bell in an unfortunate brown wig. The group has been counting down the minutes till the release of Star Wars prequel The Phantom Menace. But when the old group comes to Eric in secret to tell him that Linus is suffering from a terminal illness, he comes up with a plan to drive across country and break into George Lucas' house to try and be the first ones to see the new Star Wars.
The whole premise is just an excuse for a road trip movie with lots and lots (and lots) of Star Wars jokes. It also offered an opportunity to bring in a boatload of celebrity cameos, including Carrie Fisher, Billy Dee Williams, William Shatner, Kevin Smith, Jason Mewes, Seth Rogen, Danny McBride and Ray Park (who played Darth Maul in Phantom). But, for the record, we no longer need Mr. Rogen and Mr. McBride or whoever to show up whenever another member of their posse is in a movie. We get it! You guys are great friends! Now stop. Please.
George Lucas must have enjoyed the script, as the filmmakers have clearly gotten their hands on all sorts of should-be-copyrighted things. (Light saber sounds, all sorts of Lucas movie memorabilia—even a Willow reference! But where on earth is Mark Hamill?) Still, we felt a little ripped off when it came to the emotional stuff: You can't introduce a dying kid and then use him only to advance the plot! Seriously.
Fanboys opens Friday at AMC Empire 25. AMC Lincoln Square 13, and Regal Union Square Stadium 14
svilkomerson@observer.com