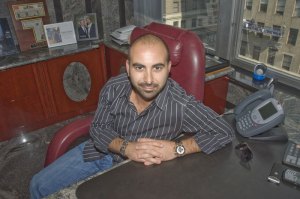 There's a new prom queen in town. The Sapir Organization is in negotiations to lease a mega 255,000 square feet of 100 Church Street, its ersatz wallflower of an office building, to the new Claremont Preparatory High School, in what would be the biggest new lease of 2009.
The school, which will open this fall and charge $31,500 a head, has a lease out for about 225,000 square feet of indoor space and nearly 30,000 square feet of outdoor space at 100 Church Street, according to P. D. Cagliastro, the director of public affairs for MetSchools Inc, which owns seven other schools, including the new Aaron School, also opening this fall at an as-yet-undetermined New York location.
On top of that stupendous news, on Tuesday, the Sapir Organization announced that Interactive Data, a provider of financial market data, had signed a 15-year, 65,000-square-foot lease in 100 Church.
This is all tremendously good tidings for the building, poor thing, which has everything going for her but looks. Nice-size floor plates, reasonable asking rents, multiple entrances, excellent location, good light and air, proximity to the future Fulton Street transit hub. One thing she doesn't have going for her? Her face, which, in the case of a building, is her facade and her lobby.
The Sapir Organization, led by Alex Sapir, bought the 1 million-square-foot, 21-story building at Barclay Street and Park Place in 1997 for an eminently reasonable $55 million. In 2006, Sapir began overhauling the building, creating a lobby that reminds some brokers of Vegas, with a water-spouting fountain, mirrored tiles on the ceiling and, at 50, the world's largest collection of Swarovski crystal chandeliers (there is also a rather lovely stone-inlaid globe created by Tamir Sapir himself).
Meanwhile, the Sapirs opted to repaint the blue-brick facade, rather than cover it with a glass curtain, as competitors like Macklowe Properties have done at 1330 Avenue of the Americas.
Neither CB Richard Ellis, which is representing the Sapirs, nor Newmark Knight Frank, which is representing the school, would comment, but the pending deal would easily be the biggest new Manhattan lease this year, and a boon for the downtown office market as well as for the Sapirs.
According to real estate database CoStar, the building is about 50 percent leased, with asking rents in the high $30s per square foot.
drubinstein@observer.com