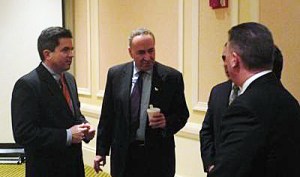 ALBANY—As he walked into a gathering in a downtown hotel of the New York Conference of Mayors, one of the first things Chuck Schumer asked was how  Kirsten Gillibrand had done speaking to the group the night before.
"It was great," one of the NYCOM executive board members replied.
"Good," Schumer replied.
Schumer hasn't said he will endorse her in a hypothetical primary that could include Representatives Carolyn Maloney and Carolyn McCarthy.
Schumer spoke for about 30 minutes and was rushing out to another event when I asked him about endorsing Gillibrand, citing Fred Dicker's column.
"As I've said, here's my whole quote," Schumer said. "I don't endorse two years before a primary. Never have. I have every expectation that I will, because she'll do a good job."