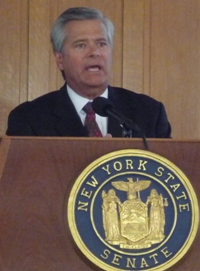 ALBANY—Complaining that he and his members have been "shut out" of negotiations regarding the budget, M.T.A. deficit and federal stimulus, Dean Skelos at a press conference decried the "rush to tax" he sees Democrats pushing.
Skelos said he hoped that any rescue package for the M.T.A. would include "parity" for upstate regions, but said he opposed tolling bridges, opposed a region-wide payroll tax or, as one of his members suggested to me, a reinstatement of the commuter tax.
When asked where he would get money, Skelos said that a plan to "collect cigarette taxes" is already in place. He was also asked to clarify his position on federal stimulus funds, which he said yesterday should be appropriated with regional balance and still be done quickly. The governor was critical of this position earlier this morning.
"That's something that's been critically important over the years," Skelos said. "High-speed rail. I think that's critically important whether it's for economic development for the western part of the state for improving transportation. Senator Bruno had talked about that for years and years and years.
"But the reality is, that money for high speed will not happen for another 10, 15, 20 years. It involves billions and billions of dollars," Skelos said. "So I don't want the governor to say to the western part of the state or to upstate New York, 'Your piece of the action is going to be a high speed rail 15 or 20 years from now. They need immediate stimulus money in order to start creating jobs in that part of the state."