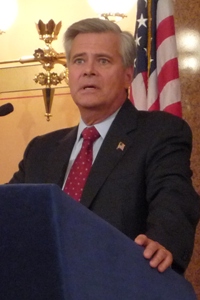 ALBANY—Reacting to a report in the New York Times this morning about the spoils system Republican state senators built for themselves when they were in the majority, now-minority leader Dean Skelos said the budget allocation for his conference's central staff is less than half of what Democrats received when Republicans ran the place.
"The bottom line is, they're looking to stifle debate," Skelos told Fred Dicker on Talk 1300 WGDJ. "They do not want us to act as an effective minority. They know well that you cannot function on $3 million and be an effective minority."
Scott Reif, a Skelos spokesman, said that when Democrats were in the minority, they were budgeted $7 million.
(A Democratic spokesman did not immediately respond on the question of comparative funding.)
After being elected the chamber's majority leader, State Senator Malcolm Smith promised Republicans would be treated "fairly." Staff levels at the State Senate are still fluctuating; an agreement was struck to keep everyone in place until March 31.
Skelos said that none of the resources were secret, published in regular expenditure reports. "I think everyone in the press room that works with the senate knows there's a print shop," Skelos said.
He also repeated a claim made earlier this week at a public hearing by State Senator John Bonacic that Republicans are not being allowed to record video messages that are not on the "topic of the day." Republicans have started recording videos on whatever topic they choose and posting them on YouTube here. (You can tell that these videos were recorded in the Republican conference room, not the Senate lobby where the official camera is parked most days that the legislature is in session.)
As for a jokey quote in the Times article by staffer Rich Azzopardi about a T.V. studio on Long Island, Skelos responded: "there was a camcorder that some members could use to do stand-ups."
UPDATE: Smith spokesman Austin Shafran called to say that the baseline allocation to individual senators — including minority senators — rose to $350,000 for everyone, up from the $200,000 he said Democrats were afforded in the minority.
"Overall, the number should be very similar to the old proportion because of the increased member allocation," Shafran said.