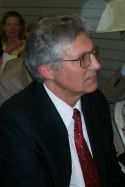 Warren Township Deputy Mayor Victor Sordillo may pursue a run for the seat veteran Somerset County Freeholder Rick Fontana is vacating at the end of his term this year.
"I have not ruled out running at this time," Sordillo told supporters in a Tuesday night email.
The 2007 candidate for freeholder and 2008 candidate for U.S. Congress said he plans to meet with Somerset County Republican Party Chairman Dale Florio to determine a course of action.
"If I can add something to the field of candidates by stimulating ideas and debate, I will enter the contest," said Sordillo."If I believe that the choices are sufficient to ensure the strength of the party, I will become an observer and supporter this year."
An international business consultant, Sordillo last year failed to muster party organization support in the four counties with portions in the 7th District, and dropped his bid before the Republican Primary. In his last bid for freeholder, Sordillo placed second behind Pat Walsh at a screening with the committee.
"It was a tough battle but coming in second to Pat Walsh was justification that my message was appreciated," Sordillo said.
In the wake of Fontana's retirement announcement last week, Bernards Councilman John Carpenter was the first to submit his name to Florio expressing interest in the freeholder seat.