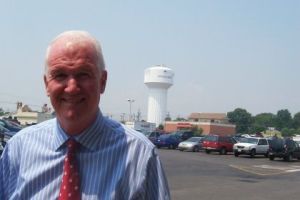 There is considerable speculation among Bergen County Republicans that Assemblyman John Rooney (R-Northvale) has decided not to seek re-election to a fifteen term, and sources say that he has already told some Republican leaders of his intention to retire.
Four candidates have filed to compete for the two District 39 seats at next month's Bergen County Republican Convention: ten-term Assemblywoman Charlotte Vandervalk (R-Montvale), Washington Township Committeeman Robert Schroeder, Harrington Park Councilman Tom Betancourt, and former River Edge Councilman John Felice, the son of former Assemblyman Nicholas Felice (R-Fair Lawn). The conventional wisdom is that Schroeder, a millionaire businessman who sought the Republican nomination for Governor in 2005, is Rooney's preferred successor, and that Felice was prepared to challenge Rooney for the organization line.
Rooney, 69, has served in the Legislature since winning a 1983 special election to replace Joan Wright, who had been named Director of the State Division on Women by Gov. Thomas Kean. Rooney served six terms as the Mayor of Northvale. He was the author of a 1988 law that ended special elections and empowered the County Committee of the party who held the seat to fill a vacancy.
Rooney said last year that he was mulling retirement as he dealt with some health issues. He is the senior member of the State Assembly.