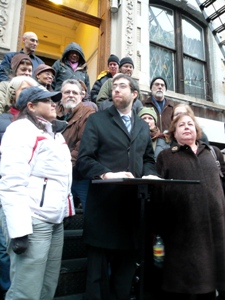 The residents of 47 East 3
rd
Street, after a five-year losing battle to keep their homes, may at least get some karmic revenge.
"You are looking at a personal residence," State Senator Daniel Squadron said Thursday of the five-story, red-brick tenement behind him, in kicking off a drive to limit the practice of "owner-occupancy" evictions. "It is such a blatant violation of the spirit of the law."
In December, the nine remaining tenants accepted a settlement of $75,000 each to leave the building by the end of August, after a high-profile fight that took them to the highest court in the state and racked up hundreds of thousands in legal fees. Owners Catherine and Alistair Economakis began evicting tenants in 2003 under a provision that allows landlords to claim as many rent-regulated apartments as they like for "personal use."
Under legislation passed in the Assembly earlier this month, as part of a 10-bill rent-reform package, landlords would be able to only take one unit, and only for use as their primary residence. Mr. Squadron, with six weeks under his belt in Albany, has taken up the bill–a "totemic issue" in his district–to shepherd through the Senate (he may adopt other housing bills if they don't find a sponsor).
It's unclear how widespread this type of claim is across the city; Housing Court doesn't track them. Tenant activist Wasim Lone, of Good Old Lower East Side, says that while full-building evictions are rare, landlords will often take two or three units for personal use; his organization handled about 10 such cases in 2008.
But everyone has a story about something like that happening to someone they know, including Assemblyman Vito Lopez' chief of staff Steven Levin, who told the small huddle of people at Thursday's press conference about his neighbors in Williamsburg, forced to move by a landlord who claimed units for herself, and then a brother, and then a sister.
"It's all totally legal," he said.
Mainly, housing advocates stressed, this is a preventative measure: word gets around quickly in the landlord world, and since the Economakis case was the first to make it through a full appeals process, more might try doing the same.
"If you close one loophole, then landlords will try to exploit another one," said Steve Herrick of the Cooper Square Committee. "We're trying to plug all those different ways for them to take apartments out of the system."
John Raskin, Squadron's 28-year-old chief of staff, had made a name for himself in the housing advocacy world before coming to work for the campaign. Before his boss arrived, he assiduously took names and listened to stories of sympathetic tenants, some of whom asked whether the legislation could be made retroactive to cover the tenants of 47 East Third.
It can't, since they agreed to leave under the terms of their settlement. But Mr. Squadron is trying to strengthen the bill–which he expects to introduce early next week–by having it go into effect immediately, which would put a stop to multi-unit personal use applications currently on file.
Senator Liz Krueger was the first to sign on to the bill. In her remarks, though, both she and Councilwoman Rosie Mendez hammered particularly hard on another piece of the 10-bill package, repeal of the Urstadt law, which currently prevents the city from setting stricter rent regulations–giving undue power to upstate lawmakers who, in Ms. Krueger's words, "never have to look a resident in the face and say, 'I passed a law that will take your home away.'"
Housing advocates, while fully supportive of Mr. Squadron's measure, are largely focusing their efforts on the package's banner legislation: the repeal of vacancy decontrol. "If we don't repeal vacancy decontrol, the rest of it doesn't amount to much," said Housing Here and Now's Michelle O'Brien.