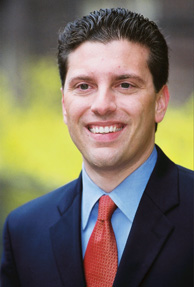 Public advocate candidate Eric Gioia just announced he's gotten the endorsement of the union representing stagehand employees.
It's the latest in a series of union endorsements Gioia has announced. With the entrance of Mark Green—who held the office for two terms and is better known than anyone in the field—it's now a race to break out of the very competitive pack, which includes City Council members Bill de Blasio and John Liu and civil liberties attorney Norman Siegel. Also considering entering the race is City Council Member Jessica Lappin.
The full release:
*Stagehands Union Signs on For Public Advocate Race* *New York** – *The campaign of Councilman Eric Gioia, candidate for New York City Public Advocate, demonstrated that it continues to build steam as it announced today the endorsement of the International Alliance of Theatrical Stage Employees, Local One. Gioia has previously received the endorsements of RWDSU, UFCW Local 1500, and two NYPD unions, the SBA and the CEA. The announcement of the I.A.T.S.E. Local One endorsement evidences a growing coalition of labor and grassroots support for Gioia's race for Public Advocate.

"Of all the candidates in this race, Eric Gioia always proved willing to stand with us, even walking the picket line with us in the dead of winter," said James J. Claffey, Jr., President of I.A.T.S.E. Local One. "He understands the needs of working people and the middle class – to create and protect good jobs, improve our schools, and keep our neighborhoods strong. Eric is one of the most dynamic and innovative leaders in the city, and that's why he's the best choice to be New York's next Public Advocate. The membership of Local One and the Local One Political Action Committee strongly believe Eric is the energetic, effective advocate that New York needs right now."

Councilman Gioia said, "I am truly honored to have the Local One's support. Especially during these difficult economic times, working people need an effective advocate and a strong voice at City Hall. New Yorkers need a Public Advocate who puts their needs first, and I look forward to working with the SBA and the CEA this year and for many years to come to win this campaign, fight for working people, and keep our city safe."

Along with labor support, Gioia has developed the largest grassroots network of any candidate in the city. 3,200 people have contributed to his campaign to date, five hundred more contributors than the next highest candidate for any office citywide, and the most common contribution to the campaign remains $10.

Local One is the premier stagehand union of the International Alliance of Theatrical Stage Employees (I.A.T.S.E). Its over three thousand members construct, install, maintain, and operate the lighting and sound equipment and the scenery and special for Broadway shows, concerts at Radio City Music Hall, Madison Square Garden and Carnegie Hall, productions at The Metropolitan Opera and throughout Lincoln Center, and broadcasts from CBS, NBC, ABC, FOX, and PBS. Local One members also work at numerous cable TV studios and major corporate special events.

Gioia has a long history working alongside organized labor. He attended public schools P.S. 11 and I.S. 125 in Woodside, Queens, and later worked his way through college as a janitor, doorman, and elevator operator as a member of SEIU Local 32BJ, becoming the first person in his family to graduate from a university.

Gioia received broad backing from organized labor in his City Council campaigns, and over the past eight years has built an impressive record standing up for working people and their families, including:

– Improving schools through new technology, new extracurricular activities, and college prep courses;

– Fighting for affordable housing and passing the first ever inclusionary zoning plan adopted in Queens;

– Working to revitalize the Long Island City waterfront, including the City's largest development project for middle-income families;

– Cutting red tape that was preventing and delaying hungry families, including 400,000 children, from getting desperately needed food stamps;

– Bringing Amalgamated Bank to Queensbridge Houses – the first bank ever within walking distance of the largest housing development in the country.