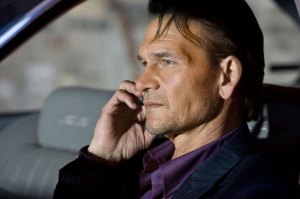 Two imprints of Simon & Schuster, Atria Books and the pop-culture–oriented Simon Spotlight Entertainment, have both acquired books about the terminally ill actor Patrick Swayze that will be published mere months apart.
Though it's unclear in what order the two deals were finalized, Atria was first out of the gate with their announcement, issuing a triumphant though tastefully somber press release on Thursday, Feb. 5, that said Suzanne Gluck and Mel Berger of the William Morris Agency had sold them Mr. Swayze's memoir. The book, co-written with Mr. Swayze's wife, Lisa Niemi, would chronicle the Dirty Dancing star's childhood, career, marriage and struggle with pancreatic cancer, and was rumored to have come with a price tag well into the seven figures. Atria set a tentative publication date for October.
Three days later, on Monday, Feb. 9, Simon Spotlight announced that they would be publishing a Patrick Swayze book of their own, titled One Last Dance, which was sold to them by Trident Media Group CEO Dan Strone. Unlike the Atria title, the Simon Spotlight book would be written in the third person by the celebrity biographer Wendy Leigh, who has penned books about such celebrities as J.F.K. Jr., Liza Minnelli and Arnold Schwarzenegger, and was most recently in the news for ghostwriting last summer's best-selling tell-all My Life With Sister Madonna by Christopher Ciccone. Ms. Leigh's book about Mr. Swayze ("a tribute to this star, who continues to inspire with his courage and hope in the face of his fight against pancreatic cancer") was scheduled for early summer.
Will the two books compete against one another? Team Simon & Schuster, in one voice, says no!
"Frankly, I don't think it makes any difference," said Atria senior editor Sarah Durand, who will work with Mr. Swayze and his wife on their memoir. "They're two different books. We're publishing ours and they're publishing theirs."
Was Ms. Durand aware of the Simon Spotlight title before news of its acquisition popped up online?
"No," she said. "But they're allowed to acquire what they want to acquire, and we're allowed to acquire what we want to acquire."
Kathleen Schmidt, the publicity director at Atria who announced Mr. Swayze's memoir, said the publicity campaigns for the two books would likely be carried out separately.
"One is a memoir by Patrick Swayze, and the other is about him," Ms. Schmidt said. "When a celebrity does it, it's very different than when a biographer does it. They're just two different entities."
Adam Rothberg, who serves as corporate spokesman for the entire Simon & Schuster empire, said he does not expect the two books to compete because they'll be hitting stores several months apart.
"They certainly won't be going head to head during their initial burst of sales, marketing and publicity once they come out," Mr. Rothberg said. "It's a big marketplace and it's a big tent, and people will make their decision based on what they want from the book. Hopefully, fans of Patrick Swayze will want to buy both."
This is not the first time in recent memory that two units within Simon & Schuster have committed to books that appear to have competing interests. It also happened this past fall, when David Rosenthal, publisher of the flagship "Little Simon" imprint, agreed to pay the late Norman Mailer's friend and literary executor Michael Lennon a high-six-figure advance for an authorized Mailer biography just as the Washington Square Press imprint of Atria was preparing to publish a paperback reissue of Peter Manso's 1985 oral history, Mailer: His Life and Times, which contained a ferocious new afterword by Mr. Manso in which Mr. Lennon was harshly accused of being a mere "fan" who had made Mailer into his "franchise." Mailer Estate representative Larry Schiller, meanwhile, the movie producer who brokered the Lennon deal with Simon & Schuster, was described as "an unkempt man in a wet, walrusy sort of way, with a mouthful of protruding teeth and a beard that I can only guess was meant to give him a certain Hemingway dash that no one would otherwise remotely associate him with." Together, he and Mr. Lennon were characterized respectively as "the schlockmeister and the professor."
In an interview last November, Mr. Manso, who considered Mr. Mailer a friend and a mentor until the two fell out during the late '80s, said Mr. Schiller and Mr. Lennon had "fed upon Mailer carrion-like."
At the time, both Mr. Lennon and Mr. Schiller said in separate interviews that they had not seen the new edition of Mr. Manso's book and did not care to respond to the contents of its afterword.
Mr. Rothberg, the Simon & Schuster spokesman, actually saw a bright side to the two-book situations of Mailer and Mr. Swayze.
"The imprints operate in a manner of spirited, but friendly competition," Mr. Rothberg said. "At the end of the day, it's a lot of fun. People who are interested in Mailer and people who are interested in Patrick Swayze get to choose from a wealth of information in the market by and about them."
lneyfakh@observer.com