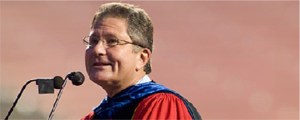 The political fallout over the firing of Rutgers Athletic Director Robert Mulcahy continues. Senate Majority Leader Stephen Sweeney (D-West Deptford) has introduced SR-111, a Senate resolution calling for the resignation of Richard McCormick as President of Rutgers University.
Last June, then-Assemblywoman Marcia Karrow (R-Raritan) introduced AR-145, which "expresses the lack of confidence" in state Commissioner of Education Lucille Davy, and urges her resignation.
Neither resolution has moved forward, and neither has any co-sponsors at this time.