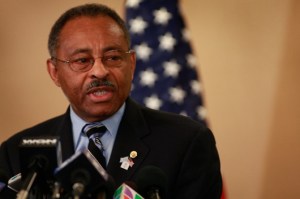 Roland Burris insists that he wasn't "trying to slip something by anybody" last month, even though that's precisely what he did.  
In early January, Mr. Burris appeared before the Illinois state legislative committee that was looking into impeaching then-Governor Rod Blagojevich. It was a critical moment in his suddenly revived political career. Despite initial resistance, Democratic leaders in the U.S. Senate – spurred by surprising public support for Mr. Burris – were on the verge of consenting to his appointment, although they attached one big condition: that Mr. Burris emerge unscathed from a grilling by the impeachment panel.
At the hearing, one legislator asked Mr. Burris if he had had any contact with Mr. Blagojevich's inner circle (and specifically with Mr. Blagojevich's brother) prior to his appointment. Mr. Burris instantly recognized the danger of answering this question forthrightly. So he stalled, launching into a detailed description of an innocuous, months-old phone call with a former Blagojevich chief of staff (not the same chief of staff who was arrested with Mr. Blagojevich back in December).
Eventually, Mr. Burris was cut off. Other questions were asked. The subject was changed. Mission accomplished. He had avoided telling any outright lies while leaving the impression that his pre-appointment contact with Mr. Blagojevich's team was utterly insignificant. A few days later, he was officially a member of the U.S. Senate.
Now, of course, we know better. Mr. Burris had at least three conversations with Mr. Blagojevich's brother and inner circle, and he was asked to raise money for the governor. The disclosure came in "supplemental" documents that Mr. Burris provided to the committee recently – possibly after learning that at least one of those conversations was secretly recorded by the feds.
Read the rest.