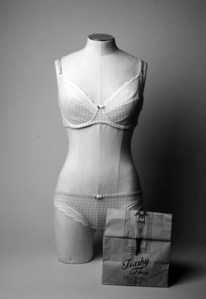 Important Artifacts …
By Leanne Shapton
Farrar, Straus and Giroux, 129 pages, $18
Have you ever rearranged your stuff before visitors arrived? Exchanged the lowbrow books on the night table for better ones, reconsidered the bibelots, removed some of the items from the medicine cabinet, and put out better kitchen towels? Knowing full well the detecting habits of dinner guests, and the clues to be found in our things?
Leanne Shapton's new book—a novelty more than a novel—trades on such powers. It's a love story (or anyway an account of a four-year relationship) cast as an auction catalog of a contemporary couple's possessions, joint and separate. A novel notion, yes.
But has there ever been a pair of protagonists more annoying than Lenore and Hal, respectively a New York Times food writer and a photographer? Don't expect M. F. K. Fisher and Alfred Stieglitz, because you won't find them here (though Fisher's How to Cook a Wolf makes a cameo appearance).
What you will find are Important Artifacts and Personal Property From the Collection of Lenore Doolan and Harold Morris, Including Books, Street Fashion, and Jewelry. That's the full name of this book. Also on the cover are the date of the auction—not incidentally Valentine's Day of the present year—and the name of the auction house: Strachan & Quinn Auctioneers.
Inside, along with their worldly goods, are many photos of Lenore; of Hal; of Lenore and Hal—ostensibly taken by themselves but in fact the work of Jason Fulford, Kristen Sjaarda, Derek Shapton, Michael Schmelling and Leanne Shapton herself. The bespectacled Hal and blond, limp-haired Lenore are cast as one might cast them for a play. They look the part.
As does the very pretty author (photographed for her back-of-the-book bio by James Truman). Ms. Shapton is the art director of the Op-Ed page of The New York Times.
I SHOWED Important Artifacts … to two actual antique dealers, whose collection of catalogs dates back some 200 years.
"This isn't a book; it's an auction catalog," said the younger of them, who likes to spend his days reading. He tossed it aside.
"Humpf," said the older antiquary, after reading it. "A celebrity auction of non-celebrities. Valueless things with nothing but provenance. A forensic novel without a crime."
Just as bidders at celebrity auctions seem to think that material objects absorb the essence of their owners, Ms. Shapton seems to think that the things she photographs and puts into her book can imbue it with cachet. Include used bookstore volumes of Robert Lowell, and how can you be accused of being unliterary, even if your novel has almost no real writing in it?
Not that there isn't some writing. It's what moves the plot along. There are made-up emails; jotted-down thoughts (some culled from a cultish Smythson of Bond Street diary); and letters conveniently unsent, and tucked into books. Not to mention descriptions of the items photographed, as in an actual auction catalog.
Here's a random sampling: On page six, Raymond Queneau's Exercises in Style, containing an unfinished letter from Harold Morris to his closest friend.
On page 58, a group of five vintage hats, with inlaid photographs of Lenore wearing them.
On page 105, a lot comprising a photograph of Björk, a page from a book about Yoko Ono and a framed postcard of an Edward Weston nude. Also on that page: two first editions, a Faber and Faber Auden, and a Hogarth Press Woolf, from Lenore to Hal, and vice versa. Unbelievably—how dopey are these people supposed to be, anyway?—they've written cutesy inscriptions in the books, in the latter case on the flyleaf of the dust jacket.
Page 108 brings us a series of the couple posing as other couples: Hughes and Plath, Hemingway and Gelhorn, etc. And it isn't even Halloween.
On page 116 (believe me, this is a quick "read," despite the numbers) is Lot 1293, eight small pots of Farrow and Ball paint with names like "Arsenic," "Dead Salmon" and "Savage Ground."
How trendy does it get? Very. How touching? Not at all. How compelling? Unless you are of an age and disposition to use it as a "how to" book, not very. Thus one suspects this volume will be given, read, admired, blogged about and praised by a cultural in-crowd not unlike Lenore and Hal, who snitch salt shakers and display them.
It's faintly possibly the whole thing is meant to be ironic, in which case I should apologize, because I took this enterprise at face value, and it tried my patience.
If you don't like it either, you're obviously just not cool. It's original! It's creative!
So don't tell anyone. Just position it on your coffee table, and you're good to go. Let the doorbell ring.
Nancy Dalva reviews books regularly for The Observer. She can be reached at ndalva@observer.com.