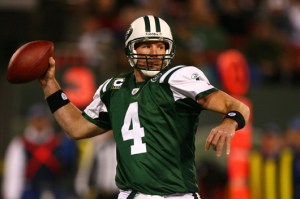 Brett Favre retired yesterday for the second time in 11 months, and if the New York Jets are lucky, this one will stick.
The decision to sign Favre last August was an unmitigated disaster, typical of the Jets' blundering over the last quarter century. Stripped of the illusions the New York media wrapped it in, it came down to a 4-12 team that hitched their star to a 38-year-old quarterback, who despite a comeback in 2007 hadn't finished in the top five of the NFL's passers since 2001. As recently as 2006, he was ranked 25th in the NFL.  In 2005, 31st.
What exactly was going through the minds of owner Woody Johnson and his front office when they signed off on the deal?  Did they honestly think that Favre, several seasons past his peak, was going to catapult the Jets into the Super Bowl (which he hadn't been to, by the way, since 1998—when, incidentally his Packers lost to the underdog Denver Broncos, 31-24)? 
Were they thinking, perhaps, that with the obvious upgrades they had made in the offensive line, Favre might have a late second life?  But if so, why not keep Chad Pennington, who was five years younger than Favre and the sixth-highest-rated passer among active players, despite being the most knocked-down quarterback in the league in 2007? 
If the Jets didn't think Favre was capable of taking them to the Super Bowl last season, then why did they want him?  Surely they didn't think he would get even better in 2009 at age 40? Was there no one around to remind Johnson that Favre's $12 million salary was going to put the team in serious salary cap trouble? Most of all, did anyone think ahead a year or two and realize that they were going to be left with the task of drafting, trading for, and otherwise breaking in a brand-new quarterback?
All the Jets seemed to see was the quick millions they'd take in from the sale of jerseys and other memorabilia. (Most of which, I'm betting, you can now find at a big discount at your local shopping mall.)  Everyone saw the windfall; no one stopped to consider what it would cost the Jets in just a couple of short years—or, as it's turning out, in just one year.
Part of that cost—maybe the most significant—was the loss of a competent coach, Eric Mangini, who inherited a 4-12 team and coached them to two winning seasons. Mangini took the blame for "only" improving the Jets to a 9-7 season. The credit, somehow, went to Favre, who finished 21st in the league in quarterback rating and led NFL passers with 22 interceptions. If you're counting, that makes 84 interceptions for Favre since 2005 against 88 TD passes. That's just a couple of throws away from certifiable mediocrity.
Brett Favre was one of the most exciting quarterbacks in pro football history.  He was also the most overrated. That he will be a first round pick for the Hall of Fame is a given—he's the NFL's all-time leader in attempts, completions and passing yards. He took his team to the Super Bowl twice, winning in 1997.  But in 16 seasons, he never lead the league in passer rating and never finished first in the most important passing statistic, the one that correlates most with winning, yards per throw.
In contrast, Kurt Warner has been to the Super Bowl three times, has led the NFL in passing twice and in yards per throw three times, all in five fewer seasons. Favre, never a particularly good big-game quarterback despite his reputation, is just 12-10 in the postseason; Warner is 8-3.  Yet, somehow, Favre is regarded as an instant HOFer while Warner's case is still being debated. 
That's the way it's always been for Brett Favre. Everyone remembers that he holds the all-time record for most TD passes (464); no one ever seems to mention that he also holds the record for most interceptions (310).
Furthermore, he has not always been the team player he's made out to be.
He held the Green Bay Packers' collective feet over a fire, vacillating over his retirement, and then tried to engineer a trade to a division rival. A couple of years ago, when asked by  a Milwaukee reporter if he thought it was time to retire—it was, by the way—Favre snickered that he was going to stick it out because "it isn't like they're going to cut me." He forced the Packers into using a valuable draft pick on an extra quarterback last year and tried to bully the team into guaranteeing him that he'd be the starter. When they wouldn't, he sulked and bitched in front of anyone who would listen.
Many a great quarterback before him—including another Packer great, Bart Starr, who won five championships to Favre's one—was content to stick around for an extra year or so and help break in his replacement. Favre obviously didn't seriously consider doing the same thing for the Jets.
The Jets are better off without Favre, a fact they must surely now realize whether or not the good old boy sports press around here does.