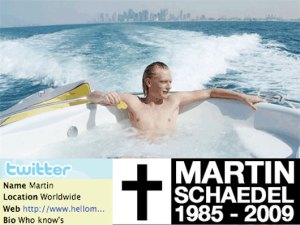 At 4 p.m. on Wednesday, Jan. 28, Martin Schaedel, a 23-year-old Gatsby-like Internet entrepreneur, had a 20-minute meeting in Los Angeles with venture capitalist Derek Norton. It was their first meeting, and by the end of it, Mr. Norton was insisting that Martin stay in his pool house, as his guest, the next time he was in town. Martin had another meeting scheduled at 7 p.m.—with Michael Montgomery, president of the investment bank Montgomery & Co., who was going to introduce him to the best burger in town at a place called Father's Office on Montana Avenue—but first he went over to Santa Monica airport, where he planned to go for a ride in a red Italian stunt plane, with his friend, 46-year-old Paulo Emanuele, at the controls. As the single-engine Marchetti climbed during takeoff, the engine suddenly quit. The plane hit the tarmac and burst into flames.
NEWS OF Martin's death spread like a current across his vast network of Internet friends long before the Los Angeles Times confirmed his passing with the misguided headline "Friends Say Santa Monica Plane Crash Victim Lived Life on the Edge." If the many posts from friends and acquaintances shared a theme, it was that Martin seemed to know everybody, but nobody could say for sure they really knew Martin. He was as connected—and as elusive—as the Internet itself. Last month Martin Twittered from his BlackBerry: "Love days like this, nice people, hot secretary, tons of biz deals and rupert murdoch paid for lunch, now flying off." Another day: "Just finished a meeting in my favourite conference room, last time it ws rupert, this time [former CIA director]george tenet."
Martin liked to say that he didn't live anywhere. During his last stay in L.A., he was sleeping on his friend Megan O'Brien's couch. A few days after the plane crash, Ms. O'Brien, 32, who operates a beauty Web site, went about the unpleasant business of gathering up his belongings; people from the Swedish consulate were coming by to pick them up, to have them shipped to Martin's parents in Sweden. Among Martin's luggage were several American Eagle sweaters, some neatly folded, others drying on chair backs; a stack of business magazines; hair gel; a laptop and a backpack. She remembered him in the mornings, getting up and ironing his shirts, blow-drying his hair.
"The first thing I pulled out was a business card for the ambassador to Sweden," said Ms. O'Brien. Then she pulled out a book. "The book was How to Win Friends and Influence People," she said. "I was like, 'I thought he wrote that book.' I started laughing. I texted everyone that one." She flipped open his passport and at last was able to verify his true age.
Martin Schaedel was born Oct. 15, 1985, in Lund, a university town in southern Sweden. His father, Bertil, an electrical engineer, and his mother, Charlotta, a pediatrician, had met at the university. They decided to raise their family in a suburb of Lund called Djingis Khan. 
"There were a lot of kids and no cars and very open culture, with people active in culture, whether in music or painting or sculpture," Martin's father told me over the phone; he'd just returned from walking his youngest daughter to school. "It was a very friendly area for kids, with no cars, so they could go out and play. One person said you could never have a region like this if they hadn't invented antibiotics, because of so many children in a crowded place. 
"When Martin was growing up, he was in a care system, we call it 'day mom,' where you can have a family taking care of your child," he continued. "So I was looking for a family asking people about the best, and so he went to an old lady and she was taking care so well of Martin. And when he was starting school, he was crying, saying, 'How could I make it starting this school without Gunheld'—his day mommy—'and Kalle'—her husband.
"And he went to school and he was playing football (soccer). He was maybe 12 years old but he was having injuries. Because you had to play in a group with bigger boys, and he was a tiny guy."
So instead of playing soccer, Martin plunked himself down in front of the computer.
"He was needing bigger, faster computers to play," said Mr. Schaedel. "And I said, 'If you wanting something exclusive, we are not interesting to pay all this, you have opportunity to make the money.' I was trying in a playful way to explain there is a market on the Internet that people don't understand, crazy money to do some simple stuff. I helped making contact with the companies. And I told him, if you want to go to exhibitions—in Europe we had CeBIT, a huge exhibition for mobile phones and computers—I said you could go there, but you have to pay the ticket yourself."
Mr. Schaedel gave his son some advice before letting the boy loose at tech conventions: "I told him, 'Remember you are so young. People will not listen to you. You have the knowledge more than those guys, but you have to accept in life that this is the situation you will have for many, many years, Martin. Don't judge the people, and don't impress people by getting dressed in exclusive things, just be patient and start talking to them. And slowly they will find out you have the good knowledge.'"
The advice paid off. "He was 16 years old, was getting a telephone call from the United Kingdom, from a headhunter asking if he wanted to have a job over in London," said Mr. Schaedel. "And of course he was surprised; he did not have experience of this. And I said, 'Call up the guy and say you're using your free time if you go over there, so it's more than fair that they pay the flight ticket if they are interested in you. And when you have made that call, think of the three top companies in U.K.'—because I didn't want him to move to far away—'you want to work for and phone.' So he called the first company to ask, are you willing to pay my cost? They said, 'Yes, book a ticket and come immediately.'"
He asked his father what to wear to the interview. Jeans and T-shirt, said Dad. He walked out of the interview with a job; attached was a note suggesting he buy himself some slacks. Soon the teenager was making more money than his dad. He also declared there was no need to be chained to a desk.
"He saw the business and how things are," said Mr. Schaedel. "He worked in this company for one year and then he started to be on his own, working where he wanted, going around the world. First staying at hotels, but he met a lot of people and over the years he wanted to go to his friends, if he had to the possibility to stay with them."