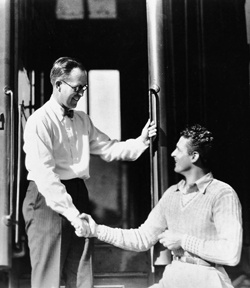 Joseph P. Kennedy Presents: His Hollywood Years
By Cari Beauchamp
Alfred A. Knopf, 512 pages, $35
Joe Kennedy comes down to us as a peculiarly modern figure, a man who formed the mold so comfortably inhabited by Ken Lay and Bernie Madoff. Old Joe was a cold-blooded capitalist carnivore who cared for nobody outside his family, which he was determined to enrich at any cost. On the basis of this revelatory business biography, he never had a business partner he didn't shaft—or, if he was in a benevolent mood, merely take advantage of.
To cut to the chase: When Kennedy hooked up with Gloria Swanson, she was $500,000 in debt but still a major star. (Swanson was an ambitious but financially incompetent producer who couldn't control her costs.) When he left her, she was $1.5 million in debt and damaged goods.
Joe Kennedy, needless to say, pocketed millions.
This pattern is repeated over and over again in Cari Beauchamp's Joseph P. Kennedy Presents. Ms. Beauchamp is the first person to get access to the documents relating to Kennedy's movie career, and the breathtakingly audacious iniquity of the story she's telling more than compensates for a pedantic prose style.
JOE KENNEDY's fling with the movie business ran from 1926 to 1930, a chaotic period in which the movie business converted to sound—turbulence that worked to his advantage.
He had a rough modus operandi:
1. Find studio in trouble (First National, Pathé, FBO); take over said studio with bare minimum of Kennedy cash in play.
2. Radically cut costs; fake good balance sheets.
3. Effect merger with more successful studio; abrogate contracts and break careers as necessary.
4. Move on to next victim.
A snapshot of our hero in action: He signed the cowboy star Fred Thomson to a personal contract, and the overly trusting Thomson allowed Kennedy to make all of his business decisions. When Kennedy signed Tom Mix, a bigger cowboy star, Kennedy simply cast Thomson into the outer darkness and let him sit and stew, unable to work, unable to negotiate with the studios for his services. Meanwhile, the parade moved on. Thomson died in deep emotional distress on Christmas Day, 1928, leaving an estate of $25,000. Joe Kennedy collected $150,000 from a life insurance policy he had thoughtfully taken out on his asset.
When it came time for Kennedy to put up or shut up for his legendary mistress, he cast Gloria Swanson in Queen Kelly, written and directed by Erich von Stroheim, the most flamboyantly out-of-control director in the business, who had a long string of firings and uncompleted pictures trailing behind him. (The Wedding March, Stroheim's previous picture, had taken eight months to shoot, gone through $1 million 1927 dollars and was never properly finished.)
Stroheim was an impoverished Jew who had converted to Catholicism while pretending to be an aristocratic nobleman. He cared nothing about money, nothing about stars, cared only about fully re-creating his peculiarly rapturous fantasia of the sordid underbelly of the Austro-Hungarian empire. Kennedy was a businessman effortlessly skilled at charming and taking advantage of other businessmen. He'd never had many dealings with high-end creative types before, and Stroheim took him to the cleaners in every way—except financially, of course, because Kennedy had been careful to construct an interlocking series of nets beneath his own investment.
Kennedy had loaned Swanson money—$700,000 to be exact—then kited $650,000 of it to cover expenses at Pathé, his own studio, making sure that Swanson (who trusted him every bit as much as Fred Thomson did) was responsible for paying back the entirety of the loan.
Queen Kelly was never finished and never really released. For Swanson, it was a dead loss, and she was bedeviled by debt for the rest of her career.
As for Joe Kennedy, he emerged from the movie business safe and secure after finagling the merger of his studios and theaters with David Sarnoff's RCA to form RKO. By the mid-1930s, Kennedy had about $15 million in assets and was the richest Irish-American in the country. Fortune magazine conservatively estimated that about half of his wealth derived from his Hollywood search-and-destroy mission, which left behind a bankrupt mistress and a single chronically underfinanced studio.
Joe Kennedy wasn't about making movies. He was about girls. He was about the art of the deal. He was about the science of the scam. A predator thoroughly of his time—and ours.
Scott Eyman reviews books regularly for The Observer. He can be reached at books@observer.com.