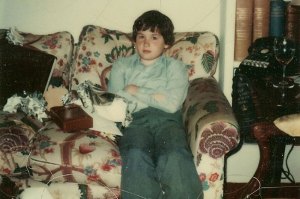 It's there every time I look out my bedroom window on Roosevelt Island: Manhattan. Maybe 250 yards away. May as well be in France. The F.D.R. is a stone's throw away but you have to hold your breath to hear it.
I moved to Manhattan when I was 9. I've lived on Spring Street, MacDougal; on the East Side: 10thth, 17th, 38th, 61st, 63rd, 65th, 71st (twice), and 96th. On the West Side: 69th, 70th, 71st, 74th, 80th, 88th, plus three extended stays at the Belleclaire Hotel. On Roosevelt Island I live in a former women's lunatic asylum. The journalist Nellie Bly had to feign insanity to spend 10 days here in 1872.
Last week I decided to take a stroll all over Manhattan, see if the old fire is still there.
On the tram I'm thinking, what's worse, being a sociopath or a psychopath? Is it psychos who occasionally have redeeming qualities like suave personalities? Wow, look at the 59th Street Bridge. Looks phallic, like it's sliding into midtown Manhattan. Go on, give it to her real good. Hey, what am I supposed to do, censor myself? That's what I just thought. Take it up with my brain. Not my fault.
Long Island. Spent a good 15 years hanging out on the North Shore. At one point I thought it was within the realm of possibility that a harem of the girls I was in love with might live there with me. There'd be some friction, minor disputes, but they'd get used to it. Probably not gonna happen.
Didn't get into Choate Rosemary Hall but got my ear pierced there after a basketball game by some cool chick with a weird name. I knew a Moonstar once.
I kept the earring in for eight hours until a "friend" mocked me. Dick. Will never forgive him for throwing the shoe at my head and yelling, "Get some friends, fag!"
Not looking forward to Great Gatsby movie directed by Baz Luhrmann. Those horrific flashing red music video images from Moulin Rouge are still trapped in the old bean—can't shake em out. Somebody stop him.
Been burping a lot lately. Might have to stop eating altogether. Might have to sleep standing up.
Looking up, I see the moon looks like a banana.
Sixtieth Street. Let's walk up York Avenue. Scores! Got a lap dance there once and didn't have to pay for it. Just doing my job. Have always fooled strippers by pretending I'm really into it and getting a raging purpley, so I don't hurt their feelings. Whoa, now there's the tennis bubble where I chipped my front tooth. Made a bad shot, threw racket into air, followed trajectory—then opponent said something so I looked down and racket crashed into my mouth.
Sixty-third Street: Took a Russian girl I met on the Jitney to that sushi place. Over dinner she confessed that she stripped part-time in Connecticut. When we walked out of restaurant a guy recognized her on the street—"Irina!" That sucked. After we got back to my place, Irina had me put on some Madonna, did a little dance and that was that. I was afraid to fall asleep, I put a knife under the bed in case she attacked me. I still have her number.
Sixty-fifth Street. Bad memory here. Picked up a black-haired alterna girl I was dating at Grand Central, she wanted to party with her friends in that building, next morning drove her to Locust Valley, when she saw the spread, she got real excited, was practically humping the columns supporting the big house. Made out with me by the pool house. I got nothing but tongue for five days.
Sixty-sixth Street. Just stared at a girl walking her dog. Tend to do that to 35 percent of women I see on the street. Not too classy. Maybe if I had a hat to tip. Don't care what religion you are: Lust is a sin.
Sixty-ninth Street. At my fraternity one night, we pledges were forced to guzzle a pony keg in the basement and bond. A "brother" starting talking about the joys of anal sex ("Man, it's the tightest thing you ever felt!"). I escaped, crawled into nearby female dorm, got into 69 position with a young lady. Had to clean the walls of the kitchen as punishment the next day, and when I blew that off to see the Chili Peppers and Fishbone, I had to go through pledgeship again before finally getting blackballed.
Just took two hits of bubblegum-flavored ganja; had 10-minute daydream about being very rich. Need to go to church and repent. Walking up First. Club and spa for dogs in what used to be a porno theater. A Bed Bath and Beyond is where Magique used to be. Got my first French kiss there in seventh grade.
One time an older kid on the bus said his father was in the war, fell out of a plane, landed on a bale of hay, survived, and I believed him. Prick. Now let's all get down on our collective knees and blow Joaquin Phoenix some more for his brilliant mockumentary in progress. He's not only a great actor but a comic genius? Please. Grow up, celebrity-worshipping nitwits.
Saw Lou Reed walk by here. Always figured he had a dentist appointment. Left him alone. Rented cars at that Avis. Met a girl outside this CVS, got her number, took her out to dinner, and nothing ever happened. Need balding shampoo. CVS makes me happy. Now I know why I don't live here. Horns. Sirens. Puddles. Forty-nine out of 50 buildings are u-g-l-y. Almost getting hit by cars all the time. Many years ago I lost temper a tad while crossing street over here. Woman got too close to me so I smacked her BMW with my umbrella. Got into a similar contretemps two blocks away. Van got too close to me so I slapped it. The guy jumped out, gave me the once over, then smiled knowingly (aha!) and said, "Faggot." Don't want to repeat my comeback but it was colorful enough to freak him out and off he went.
Lived in the Concorde for a year and had sex in there, too. While reporting a story for this newspaper, met a California woman on phone and suggested she stay with me next time she's in N.Y.C. She showed up with bags in late afternoon, we got into bed, but it didn't work out. Droooop. Told her maybe she should stay somewhere else.