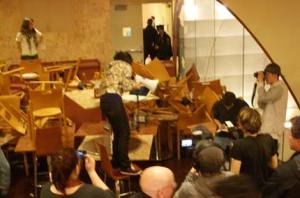 Student activists are easy targets. They're young, smug and inflamed with the fervor of unassailable beliefs. So when dozens of students staged a three-day demonstration—they referred to it unironically as "The Occupation"—at the university's student center last week, not only did their actions rivet the media, but they prompted gleeful bloggers to reward them with headlines like "Vegan Lunch Dilemma Brings N.Y.U. Revolutionaries to Brink of Explosion."
Washington Square News, the student newspaper, wrote that the occupation amounted to "a catered, self-indulgent dance party," while NYULocal, the student blog, headlined a post "How a Fringe Group at NYU Went From Being Disliked to Loathed – The Story of the TBNYU! Kimmel Occupation." And so a narrative was born: Self-righteous rich kids take over N.Y.U. lunchroom for self-indulgent, politically naïve aims. Let's face it—earnestness discomfits New Yorkers nearly as much as emotions unnerve Brits.
But while the students here and abroad may be mockable, they have managed to make themselves unignorable. The protests at N.Y.U. were, for all the attention they received, actually a faint echo of a much more widespread rash of campus manifestations in Britain. And with a global economic squeeze, the Israeli invasion of Gaza and, counterintuitively, the election of Barack Obama as rallying points, they appear to be growing more insistent, abrasive and ubiquitous than at any point since at least the 2003 invasion of Iraq.
"All of the Italian higher-education system is virtually shut down, and I was in Barcelona over Thanksgiving, and students had occupied the buildings there," said Andrew Ross, the chair of N.Y.U.'s Department of Social and Cultural Analysis. "In Paris there's been a lot of activity along those lines. You know, I think there are local differences, but basically they're protesting against the economic squeeze that is being passed down onto the education system in each of these countries."
On Jan. 13, more than five weeks before N.Y.U. students built a barricade of overturned tables and chairs inside a student cafeteria on Washington Square South, students at the University of London's School of Oriental and African Studies staged a sit-in, protesting the university's ties to Israel and demanding the university divest. In quick succession, students groups staged similar protests at the universities of Strathclyde, Glasgow, Oxford, Cambridge, Warwick, Manchester and East Anglia, and at the London School of Economics and King's College London, among nearly 20 others.
Stateside, reaction has been more limited—in January, Students for Justice in Palestine, a group at Hampshire College, issued a press release claiming it had convinced the school to divest from the State Street Fund, which holds shares in companies that invest in Israel. (Hampshire College says that the divestment had nothing to do with Israel, and everything to do with investments in places like Sudan and Burma.) And there was a spirited demonstration at the University of Rochester, which is, like Hampshire and N.Y.U., a private school.
Mr. Ross, who is a member of a group called Faculty Democracy—its politics seem to be pretty close to the student activists'—sees a link between the incidences of protest and economic distress in the form of unusually high loads of student debt. He said he was not surprised by last week's events at N.Y.U., where annual tuition is nearly $40,000.
"The group that was at the core of the takeover has been very active for at least two years on petitioning the administration on the issues on fiscal transparency," he said. "They've gotten nowhere."
At 9 p.m. on Wednesday, Feb. 18, 80 students occupied Kimmel Hall, N.Y.U.'s student center. Some brought blankets and playing cards, others brought computers and paint and food for the long haul. They created barricades from overturned furniture and settled in for the night. Videos from Thursday afternoon showed the typical trappings of college protests: a motley crew of students high on the adrenaline of spurning authority; signs emblazoned with slogans like "Negotiate Now" and "Disclose our Budget"; demands broadcast unintelligibly through a megaphone. Crowds of student supporters gathered below, including, to the delight of many onlookers, two topless coeds. On Thursday evening, two successive waves of students broke past police barricades, adding reinforcements to the dwindling crowd inside (many protestors had left for class or work), prompting altercations with security after which one campus guard was briefly hospitalized for injuries to her head and body. Before it ended, some of the demonstrators broke a lock to access the balcony and, according to the university, damaged some wall-hangings in the cafeteria. Eighteen students were served with suspension papers.
"We have to have a civil discourse about our priorities and the things that matter most to us, and I find it difficult to see where any of the matters that they brought up required the destruction of university property or injuries to an N.Y.U. security guard," said N.Y.U. spokesman John Beckman in an interview afterward. "That seems to dishonor the tradition of recent discourse that we're proud of."
Emily Stainkamp, a preternaturally articulate 18-year-old from Greensboro, N.C., and a Take Back NYU! leader involved with the protest plans since their inception, calls the Kimmel occupation her "baby."
Late in the afternoon of Saturday, Feb. 21—the day after the three-day student action was finally, anticlimactically broken up by an almost surreally restrained group of campus security workers—she sat bleary-blue-eyed, and newly suspended, in the sloppy National Lawyers Guild offices near City Hall. She was waiting to meet with an attorney from Legal Aid. Her light brown hair, parted on the right, was disheveled. The pink-purple nail polish on her fingers was peeling. Under her plaid button-down, she wore a faded T-shirt, and a stud pierced the skin beneath her lip.
The daughter of a machinist and a customer service representative at an office supply store, Ms. Stainkamp says that she loves New York City, and N.Y.U.
"The classes that I have taken through the Social and Cultural Analysis Department have been wonderful," she said. "I've had good experiences here, and it's where I want to be."
Yet Ms. Stainkamp said she is troubled by the university's lack of transparency and responsiveness: "I want to be part of a university that listens to me and allows me to take part in the way the university conducts itself."
Her complaints jibe with those of Drew Phillips, 22, and Duncan Meisel, 21, fellow members of Take Back NYU!, who earlier that day sat down at Esperanto Café on MacDougal Street to discuss the evolution of last week's events.
Mr. Phillips is a philosophy honors student who speaks in a husky voice with the slow cadence of his native Missouri. His short blond beard and unkempt coif frame a lean face prone to ironic smiles. His roommate, Duncan Meisel, is a lanky Texan, from Austin, who majors in political communication and tends to stare downward as he speaks.
Messrs. Phillips and Meisel, now roommates in Chinatown, met in October 2007, when they got involved with student activism.
"We want to make this place an institution that reflects the education that it teaches its students," Mr. Phillips said. "They're telling students that we should believe in democracy and that transparency is the only way to hold them accountable. But then they act in a way to keep secrets from their students in a very top-down manner. And I think that's hypocrisy."
And so the group circulated petitions, got a woman named Caitlin Boehne elected to the Student Senate, challenged the university's president, John Sexton, at town hall meetings and held town halls of their own. They say administration officials declined to engage them.
After the group had, in Ms. Stainkamp's words, "exhausted established channels," and after taking note of the protests both abroad and at home, Take Back NYU! opted for more forceful action.
They scouted locations, ultimately choosing the Kimmel Center for its symbolism (the center replaced what the students claim was a much more student-friendly Loeb Center), and because they would be able to disrupt business as usual without disrupting classes. In February, they formulated their list of demands.
"We sat in my common room in my dorm and kind of shouted out the things that we wanted to see at the university and wrote them on sticky notes and stuck them on my wall and tried to organize them," said Ms. Stainkamp, who until she was suspended was living in University Hall on Union Square South.
The students wanted amnesty, the public release of the university's budget and endowment, the right for student workers to collectively bargain, more generous labor contracts for all N.Y.U. employees (including those at the school's Abu Dhabi campus), the creation of something called the Socially Responsible Finance Committee, which would investigate the school's investments, 13 annual scholarships for Palestinian students, "tuition stabilization for all students" and general public access to the university's main library. 
At the end of the protest, N.Y.U. declared in a press release, "None of the students' demands was met."
Now that the students are wending their way through the judicial administration process, intriguing questions linger. Students are always under financial distress, so why now? Also: Why Gaza?
Leia Petty, 27, a Brooklyn College graduate student who sits on the national committee of the Campus Antiwar Network, said that Barack Obama's ascension to the presidency played a role.
"I've been a student activist for a while, and I've never experienced what I'm experiencing now," Ms. Petty said. "There's a massive economic crisis, and there are failed wars in the Middle East."
She said that before Mr. Obama's election, "people were very cynical that change was possible, that activism mattered, that protest mattered."
About the relentless, universal focus on Gaza, she said that the Israeli actions were particularly "bloody and barbaric."
Mr. Ross, the professor, said, "It doesn't surprise me that the plight of the Palestinian people is something that's on students' radar and is something they're energized by. It's one of the great causes of our time."
Be that as it may, it still doesn't answer a question raised by star trial lawyer and self-appointed Jewish spokesman Alan Dershowitz, in response to Hampshire College's divestment.
In an irate op-ed on The Jerusalem Post's Web site, Mr. Dershowitz—whose son attended Hampshire and who, unrelatedly, is the author of a book titled Chutzpah—claimed a disproportionate focus on the actions of the Jewish state. (He has since softened his position about Hampshire's actions.)
Samuel Freedman, a New York Times columnist and professor of the Columbia School of Journalism, also sees an imbalance-one that has been a long time in the making.
"There's a highly mobilized student movement around the Palestinian issue that was building up a lot of strength and influence on campuses before September 11, and I always felt if it hadn't been for September 11, that the Israel divestment issue would have been a huge campus issue in 2001 and 2002," Mr. Freedman said. "It was sort of abated by (a) September 11, and (b) the really horrifying series of suicide attacks against Israel in the spring of 2002, which I think put a dent in a lot of pro-Palestinian activism.
"But now, the Iraq war isn't as huge of an issue, it's a long time since September 11, and it's convenient and easy to create sympathy about the deaths of civilians and the attacks on civilian institutions, without really pondering what provoked those Israeli attacks, and without pondering the degree to which Hamas wanted to put civilians in harm's way precisely to create a sympathetic emotional climate to their cause," he said.
Activists like Ms. Stainkamp are not unaware that the singular focus on Israel's activities has led to very public questions about the underlying motive. She describes it as a price the protesters feel obliged to pay.
"I've been accused of being an anti-Semite, as a result of this and other activism that I've done for Palestine," she said. "I think that's sad, but certainly not something that should deter action from happening around what's going on there."
"This is not going to be the last occupation in the United States or New York," she added. "You're going to see more and you're going to see more soon."