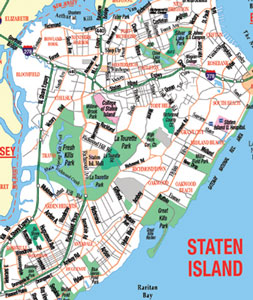 On Staten Island, the crowded field of candidates vying for the Council seat once held by Michael McMahon has collapsed into a three-person contest.
Debi Rose, who narrowly lost a 2001 race for the seat, was endorsed this weekend by former rivals Tom Curitore and Tony Cosentino. They join a bunch of labor groups who've backed Rose, including 1199 SEIU and the Working Families Party.
Rose hasn't been shy about reminding people she's the only woman in the race. If elected, Rose would also be the first person of color elected to public office from that borough, breaking a barrier here. Not coincidentally, Barack Obama's name and campaign logo appear in Rose's literature.
Once considered the front-runner, Ken Mitchell has taken heat for aggressively challenging the petitions of other candidates in the race. Some people observing the race also say he's aloof, and not much into retail campaigning. (After one debate, he quickly walked offstage and out of the building without hanging around to talk to reporters or, more importantly, voters.)
Mitchell's political strength comes from his work as the chief of staff to Mike McMahon, who vacated the seat when he was elected to Congress. Mitchell's coalition is mainly comprised of people with ties to McMahon, including much of the Democratic establishment in that borough, and City Council Speaker Christine Quinn.
And acting sort of like the Ross Perot in the race is Independence Party activist John Tabacco, who repeatedly called for a new way of doing things, but hasn't offered many details. He's also been endorsed by the Republican Party on Staten Island, which really speaks to their newly diminished clout in that borough. Granted, it wasn't considered a seat a Republican could win, but—and apologies here if this somehow underestimates the Tabacco candidacy—it has come to look like more of a gesture than an actual attempt to compete.