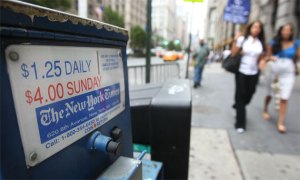 Lots of people seem to be thinking about The New York Times today. Or is it just us?
The future of the country's leading newspaper—which as recently as early January was called into doubt by The Atlantic's Michael Hirschorn—is touched on in this week's Time magazine cover story by Walter Isaacson, which was updated online after it appeared late last week with following:
Currently a few newspapers, most notably the Wall Street Journal, charge for their online editions by requiring a monthly subscription. When Rupert Murdoch acquired the Journal, he ruminated publicly about dropping the fee. But Murdoch is, above all, a smart businessman. He took a look at the economics and decided it was lunacy to forgo the revenue — and that was even before the online ad market began contracting. Now his move looks really smart. Paid subscriptions for the Journal's website were up more than 7% in a very gloomy 2008. Plus, he spooked the New York Times into dropping its own halfhearted attempts to get subscription revenue, which were based on the (I think flawed) premise that it should charge for the paper's punditry rather than for its great reporting. (Author's note: After publication the New York Times vehemently denied that their thinking was influenced by outside considerations; I accept their explanation.)
Today, The Times' Richard Pérez-Peña wrote Resilient Strategy for Times Despite Toll of a Recession, in which he floated out the "'last-man-standing' strategy," which he quotes New York Times Company President and Chief Executive Janet L. Robinson describing as follows: "As other newspapers cut back on international and national coverage, or cease operations, we believe there will be opportunities for The Times to fill that void." Of course, that's not a plot to survive the recession. Rather, it presupposes The Times definitely surviving the recession, so it's really just an argument for why The Times will still be on top after the dust clears.
Over at Jim Romenesko's Poynter Institute-sponsored media blog, there's a memo written by American Lawyer and Brill's Content founder Steve Brill, which was presented to Times Company representatives including Arthur Sulzberger, Jr. Mr. Romenesko calls the memo "Brill's Secret Plan to Save the New York Times and Journalism Itself, but it also might be called TimesSelect II: The Re-Selecting.
Writes Mr. Brill:
The New York Times newspaper website currently has 20 million unique visitors a month. It is a great editorial product and has done an amazing job building an audience.
Now, it's time to go to Step Two and make that work to usher in a bright new age for the world's greatest newspaper.
Getting an average of just $1.00 a month (3.3 cents a day) from each visitor would yield $240m in new annual revenue. This is approximately equal to (it seems, from the Times' financial statements) two thirds to three fourths of all of the company's annual advertising revenue for all of its internet properties combined. And, of course, this online ad revenue would not disappear or even necessarily diminish if readers paid a small amount for online content. [Formatting Brill's.]
Mr. Brill also suggests readers pay $55 a year for all-they-can read nytimes.com access and proposed the WNYC/PBS pledge-drive-ready slogan "An Old-fashioned Tradition is Back: Read the Times for 15 Cents a Day." (Sounds like Bill Murray's old "Listener Supported Radio" skit from National Lampoon's That's Not Funny, That's Sick! to us.)
Observer alum Gabriel Sherman weighs in with a piece on The Big Money called Micro Economics with the subheadline "Why Steve Jobs and micropayments won't save the media." Writes Mr. Sherman:
Unfortunately, with the Internet, newspaper Web sites, no matter how sophisticated, are forced to compete with every other source of news. The fundamental question, then, comes down to why consumers would pay hundreds of dollars upfront and then a subscription fee or micropayment on top of that to access newspapers' content when so much news is still available for free. To replicate the old print model in which newspapers retained pricing power and content remained scarce, all major news organizations would have to adopt the micropayment model en masse. And that would spark cries of collusion. It's not the lack of a cool device that's killing the newspaper industry—it's that competition and consumer tastes have undermined their competitive position. No device or download service will change that.
Meanwhile, in New York magazine, Will Leitch looks at Twitter and finds The Times news-gathering hegemony being pecked at by the ubiquitous blurt-blog platform that some evangelists think can replace traditional journalism (while, Mr. Leitch points out, also failing to make any money):
And then I noticed something on
Twitter
Search. The first person was 'manolantern,' who, at 12:33 local time, posted, 'I just watched a plane crash into the hudson rive (sic) in manhattan.' After that, the updates were unceasing. Some fifteen minutes before the
New York Times
had a story on its website (and some fifteen hours before it had one in print), Twitter users who witnessed the crash of US Airways Flight 1549 were giving me updates in real time.
Beating The Times by 15 minutes! (The Times' Lede blog took notice of this, too.) Of course, The Times had all sorts of relevant details, like the fact that U.S. Airways flight 1549 didn't so much crash as land safely with all passengers escaping mostly unharmed (probably something family members of passengers might want to know), but, man, it took The Times 15 whole minutes to get on the story.
So, does that mean manolantern will be "the last man standing"? Glp.