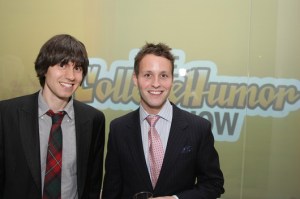 Monday: Be Kind Rewind
If you can't wait until Sunday to see the Michel Gondry–directed episode of Flight of the Conchords, check out his most recent, enjoyably lo-fi film. Two video store clerks (the excellent Mos Def and grating Jack Black) remake movies like Ghostbusters and Rush Hour 2 using household products, cardboard and some forced perception. Be Kind Rewind's greatest strength is its brevity. This thing is light as meringue; you can burn through it in 45 minutes if you so desire. [More Max, 9 p.m.]
Tuesday: The College Humor Show
This new MTV series, based on the popular website, premiered on Sunday night at 9:30, but since it was up against Desperate Housewives, Big Love and the Grammy Awards, chances are you missed it.
Monday: Be Kind Rewind
If you can't wait until Sunday to see the Michel Gondry–directed episode of Flight of the Conchords, check out his most recent, enjoyably lo-fi film. Two video store clerks (the excellent Mos Def and grating Jack Black) remake movies like Ghostbusters and Rush Hour 2 using household products, cardboard and some forced perception. Be Kind Rewind's greatest strength is its brevity. This thing is light as meringue; you can burn through it in 45 minutes if you so desire. [More Max, 9 p.m.]
Tuesday: The College Humor Show
This new MTV series, based on the popular Web site, premiered on Sunday night at 9:30, but since it was up against Desperate Housewives, Big Love and the Grammy Awards, chances are you missed it. Have no fear, though! This is MTV we're talking about, the network that never met a show it didn't replay on an infinite loop. The "scripted reality" of The College Humor Show has more in common with Human Giant than The Hills, but while the jokes might hedge toward the wrong side of hipster, we still think there will be enough comedic gold to sift out over six episodes to make it all worthwhile. If The College Humor Show can approximate the vibe of the College Humor Web series Hardly Working, we're sold. [MTV, 2:30 a.m.]
Wednesday: Life on Mars
Wednesday's other time travel drama is a tough nut to crack. In fact, we've thought more than once about taking Life on Mars out of our DVR rotation permanently. And yet! The show keeps winning us over, almost despite itself, thanks to scripts that adroitly tow the line between parody and homage. It also doesn't hurt that Life on Mars has such a top drawer cast. Especially of note is Harvey Keitel; he's so effortlessly good, it makes you wonder why no one thought of casting him on a television show before. [ABC, 10 p.m.]
Thursday: Talk to Me
From the hit-filled soundtrack to the killer Afro that Taraji P. Henson sports for most of the film, Talk to Me is a treasure trove of '60s nostalgia. Don Cheadle gives his best performance to date as controversial Washington, D.C., disc jockey Petey Greene, and Chitewel Ejiofor yeomanly plays the radio programmer who gave him a chance. Together, the two men are fantastic, but we particularly love the aforementioned Ms. Henson. In Talk to Me, she displays the same motherly warmth she does in The Curious Case of Benjamin Button, but it comes wrapped in cleavage-baring tops and hot pants. [@Max, 7:15 p.m.]
Friday: Dollhouse
Joss Whedon's new series already qualifies as "much maligned" and it hasn't even premiered yet. After going through a number of reshoots and rewrites, Dollhouse finally sees the light of day this week, but with a "Fridays at 9" time slot, we wouldn't hold our breath for much success. The bland and beautiful Eliza Dushku stars as Echo, an "Active" who works for a shady organization that imprints new personalities onto its employees so they can fulfill any number of assignments—from fantasy to criminal. Think Alias but with even more costume changes. Catch it while you can. [Fox, 9 p.m.]