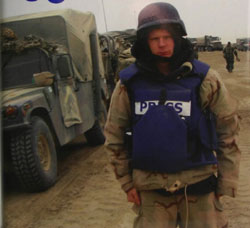 Death by Leisure: A Cautionary Tale
By Chris Ayres
Grove Press, 300 pages, $24
Getting to Death by Leisure, Chris Ayres' fascinating and rather off-putting new book, will require a detour through death by combat. Bear with me.
Erich Maria Remarque, author of All Quiet on the Western Front, was drafted into the Kaiser's army in 1917 at the age of 18, and suffered injuries to two limbs and his neck. Hemingway, working as a volunteer ambulance driver, was wounded on the Italian front. Joseph Heller, 19, enlisted in the U.S. Army Air Corps in 1942, flew 60 B-52 combat missions and wrote Catch-22. (Smart boys "volunteered" to avoid the draft's horrors of chance.) For the great story collection Red Cavalry, Isaac Babel had to actually join a Red Cossack battalion in the 1920 Soviet-Polish War. Two decades before Gravity's Rainbow, Thomas Pynchon dropped out of Cornell to join the Navy.
Call it the canon of conscription. Who would have guessed that when Nixon ended the draft in 1973, there would be profound literary consequences?
The point is biographical—can you remember the last Staggeringly Talented Young Writer who had a V.A. card with his M.F.A.?—but, much more than that, it's thematic. In the 20th century, no one doubted that war's psychological tumult was centered on the infantryman, the doughboy, the grunt. For author and reader, that predicament—the naïf thrust into murderous History—was always potentially, or actually (autobiographically), his own. But an all-volunteer military changes things: The shock-and-awe 18-year-olds likely to choose the armed services seem, however talented at politics or business or paintball, precisely the sort least likely to author a great war story (they don't even slot comfortably into the role of scared, stoic Everyman). Into the void steps—who else?—the journalist.
THE IRAQ WAR may well go down as the moment when the press finally usurped the G.I.'s place as war writing's generic existentialist figure. Post–Daniel Pearl, it seems that reporting the war is the war. In the last year alone, we've had The Forever War, by Dexter Filkins of The New York Times; War Journal: My Five Years in Iraq by NBC's Richard Engel; and I Lost My Love in Baghdad by Newsweek's Michael Hastings—superb, not-bad, and execrable additions to war literature, respectively. All three are technically nonfiction, but they read like genre novels, featuring a type (the journalist) with whom, let's face it, today's reader readily identifies—more so, anyway, than with the rough kids and gruff lifers of our mercenary military.
Imagining the lowly battlefield grunt as a stringer for the AP provides certain ancillary benefits—for one, it means Johnny is marching off not to blow up Hassan, but to get the facts. That's a point viscerally understood earlier and deeper by Chris Ayres than by anyone else. War Reporting for Cowards, the young(ish) Briton's 2006 "memoir" (I use the term loosely, but then so do publishers), named the phenomenon by satirizing it: as if war reporting was, by default, heroic! Drafted from his usual show-business beat in Los Angeles, Mr. Ayres bought a $1 million life-insurance policy, kept a bottle of Valium for easy suicide in case of nerve-gas attack and—writing for The Times of London—lasted a total of nine days embedded with a Marine artillery unit nicknamed "The Long-Distance Death Dealers." Embedded: It may just be the word of the decade.
TWO YEARS AGO, Death by Leisure might have been regarded as a trifle, a slight, lad-lit romp, the West Coast variant of Toby Young's How to Lose Friends and Alienate People. Returned from Iraq, Mr. Ayres recounts—with the sort of diminuendo wit that's almost self-parodically British—his attempts at infiltrating the L.A. entertainment-decadence complex. So: caviar facials, an apartment at a tony compound he calls "The Leisureplex," silicone everywhere, Mike Tyson's bodyguards at Michael Jackson's birthday party, et cetera, et cetera. Yawn.
But that was two years ago, before conspicuous consumption became an endangered activity.
Back to my detour: In the days when everyone fought in wars, the postwar reversion to civilian life was of pressing literary concern—Richard Yates' Revolutionary Road, the hot reappraisal object of the season, is basically about a generation that saved, and saw, the world being asked to embrace normalcy. Is Mr. Ayres experiencing the Journalist Era equivalent?
Death by Leisure's uncanniest trait is its loud insistence on being much more than that romp of two years ago, on being as much a personalized distillation of the new crisis—a probe into the boom-time seeds of the ongoing economic collapse—as those 2008 war-reporter books were of the last one. The publisher even borrows the lingo for the back cover: "Ayers embeds himself in L.A.'s 'leisuretocracy.'" (Yes—bombarded with unemployment figures and repo rates, we're all embedded now.)
In its relationship to reality, the result is what the easily titillated might call "Gonzo" reportage, but as experienced by the reader, Death by Leisure seems more like conventional comic fiction. Adding the "non-" to non-fiction only strengthens the suspicion that we're dealing here with an unreliable narrator (not exactly Pale Fire; more like Pnin). No—I do not believe that on the way back to the poolside where he'd just been propositioned by "an attractive woman, an American woman, who was approximately fifteen square inches of sculpted fabric from being naked," the living, breathing Chris Ayres really and truly stopped to watch Alan Greenspan on television promise "sustainable growth" from the Fed's cheap-money policies. But I don't begrudge him taking the liberty. (The scene, which opens the book and sets the tone, presumably takes place in 2004; as we'll see, the timeline of Death by Leisure is kept purposefully fuzzy.)
There's no ambiguity as to the book's climax: Like an Iraq embed joining the firefight, Mr. Ayres buys a $1.4 million house in the Hollywood Hills. He does this with remarkable ease, which, if you happen to be a "working" journalist, should be wrist-slashingly uproarious. His mortgage? An interest-only teaser-rate deal from IndyMac, $2,000 a month for the first six months. When the bubble, personal and otherwise, begins deflating, he refinances with Countrywide Financial, "fixed at a low rate for three years, which I suppose is a relief." We know what's coming, of course, and so does Mr. Ayres.
But just to make sure, he indulges in a little temporal trickery. The "natural" chronology of the book itself ends with a chastened Chris Ayres in Mississippi covering the aftermath of Hurricane Katrina, i.e., 2005, when the bubble was fully inflated. But the last chapter brings us back to L.A., where, witnessing the birth of his son, Mr. Ayres massages his story into today's headlines. Cataclysmically speaking, we're up to date: "Greenspan now says he didn't know what was going on until it was too late. He should have called me. …" More: "LA is changing. The world is changing. … You can't impress girls with consumption anymore, for starters. Conservation is the new luxury."
A cautionary tale, indeed. But if you happen to flip past these last pages, you'll find the acknowledgements. Mr. Ayres thanks his publishers for purchasing the book on spec and "for not asking for their money back" when the manuscript was delivered 14 months late. "My only explanation for the delay is that I was busy trying to get myself out of all the trouble that I had managed to get myself into as part of the 'research,' which turned out to include being complicit in a four-trillion-dollar mortgage crisis, among other things. The upside … is that the second half of the book is a damn sight more exciting than it was in the proposal." Which is about when the apparent nihilism of the narrator's actions in the preceding 300 pages began to seem to this reader a bit, well, nihilist like a fox.
Does Death by Leisure in fact explain the Crisis? Detour again: I'm assuming that when we were all soldiers, the baseline ethical imperative was "Don't get killed." Now that our default identity is journalist—or writer, or blogger, or what CNN is calling an "I-reporter"—it's more like "Get the best story."
Economic (and moral) stimulus? Bring back the draft.
Jonathan Liu, a writer living in Brooklyn, reviews books regularly for The Observer. He can be reached at books@observer.com.