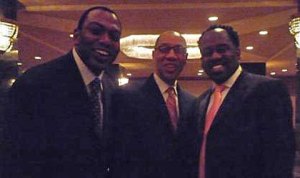 Last night, Michael Bloomberg spoke at a dinner in Manhattan hosted by the group 100 Black Men, Inc.
He got a good reception, joked about being bit by a groundhog on Staten Island, and avoided making any news. While he did that, I got the chance to chat with three attendees working to keep him in office.
On the left is Basil Smikle, a campaign consultant who was hired away from Anthony Weiner.
In the middle is Deputy Mayor Dennis Walcott, who earlier told me he went to Francis Lewis High School, located around the corner from the first newspaper where I started.
(He has't told me what year he graduated)
And on the right is Larry Scott Blackmon, a Democratic operative from Harlem that worked for the administration but has left to go work on the campaign.