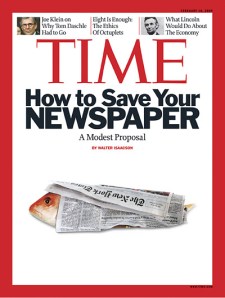 It's possible to begin the story of the problem Walter Isaacson has turned into Topic A via his Time Magazine cover story with Mr. Isaacson himself.
The first time Josh Quittner, an editor-at-large at Time met Mr. Isaacson, who, at the time, was Time magazine's new media editor, Mr. Isaacson was on the phone trying to work out a deal whereby Time Warner would either invest in or buy Yahoo.
This was 1995, and Time, Inc., the magazine giant that had created new categories of journalism with Time, Life, Sports Illustrated, and People, was dipping its Ozymandias-sized toes into the Internet with a virtual newsstand called Pathfinder.
"When we put up the wall with our content, we got criticized roundly for that," said Time Inc. executive vice president John Squires. "You know, 'We don't get it'; 'We're falling off.' 'Content wants to be free.' Yadda, yadda, yadda."
"For a variety of reasons that didn't work," said Mr. Quittner. "Free and unencumbered won."
Or did it? According to Jim Brady, formerly a Washington Post Company vice president and executive editor for washingtonpost.com, "It's a must for a site like The Post. It's a unique audience, it's a local newspaper with about 85 percent of its uniques outside of Washington. So, you cannot get advertising unless you can promise local advertising for local readers and national advertising for national readers. If you don't have basic information on where people are and some registration data on age, and gender, and some other things, it would be very hard to build the Web business we did."
The New York Times Company did the Post one better—or worse, depending on one's perspective—in 2005 by introducing TimesSelect, a $49.95-per-year subscription that a press release at the time summarized as, "a new online offering … which for a modest fee will provide exclusive access to Op-Ed and news columnists on NYTimes.com, easy and in-depth access to The Times' online archives, early access to select articles on the site, as well as other exciting features."
And yet, the paper abandoned TimesSelect in 2007, a move that was met with headlines one might associate with the end of a hostage crisis, like this one from, of all places, the New York Post, which had reported internal discontent from "several of the columnists who make up TimesSelect": TIMESSELECT CONTENT FREED.
At the same time, as media companies were giving away content online, they began experimenting with incorporating elements of the Web into their offline publications. As far back as the late 1980s, "multiple entry points" was an idea magazine and newspaper editors and designers tossed around as a means of harnessing the eyeballs of addled readers turned off by fields of uninterrupted text. But with the development of the Web, multiple entry points became a sort of gospel.
Since the publication of his Time cover story, Walter Isaacson, who is now the president and CEO of the Aspen Institute, said he's received hundreds of emails. "I was surprised at the outpouring of people who wanted to fix this," he said. "By the end of this year we'll see new business models."
But what will they look like?
"The good news is there's still a fair amount of traffic," said Jim Brady, who left The Post three weeks ago. "The Post has a massive amount of traffic, The Times has a massive amount of traffic. I'd certainly rather have the traffic and try to figure out how to monetize than not having the traffic, you know? The ability to monetize a miniscule audience is not a great situation. … Even if you figure out how to make money off it, your scale is just limited." Don [Graham, CEO of the Washington Post Company] was always going by the Warren Buffet mantra: 'Build an audience, you'll figure out how to monetize it.' You might not monetize it right away, but you'd much rather have the huge audience and then figure it out."